Are you looking for the best pizza in Pasadena, California? From authentic New York-style pizza to Napoletana-born style pizza, we have the top pizza spots you should visit.
When it comes to pizza, we all have our preferences. Some of us like thin crust, others like a thick crust, and there is a percentage out there that truly believe pineapple belongs on pizza. Are you one of them?
While we may agree to disagree on the pineapple debacle, we can all agree that pizza is a staple in life. Even if we stripped it down to the basic ingredients… bread, cheese, and tomatoes… what's not to like about this wonderful combination?
What's great about pizza is that once you have a great base, it can be a blank canvas for all sorts of combinations and toppings.
Growing up around family-owned pizzerias in New York, we admit we are particular about our pizza. And after eating many pizzas in Italy, we were re-educated on what amazing pizza should taste like.
While California knows how to prepare a great burger – and Pasadena has some great spots for burgers – pizza is a different story. You have to go on the hunt for great pizza. It has taken us years of ordering pizza in Pasadena (and Los Angeles in general) to find pizza that reminds us to be grateful for the invention of pizza.
By the way, in case you didn't know… legend has it that pizza was invented in Naples, Italy, by Raffaele Esposito.
This post may contain affiliate links, which means we'll receive a commission if you purchase through our links at no extra cost to you. Please read full disclosure for more information. We appreciate your support!
It's about the first bite after a fresh pie comes out of the oven. The dough's texture, the cheese's saltiness, and the tomatoes' sweetness meddling together. Is crust crispy enough? Is it too chewy? Is the cheese high quality? Are they using Marzano tomatoes?
You probably think we are pizza snobs. Sure. Won't argue with that. We also tend to stick to the more classic and traditional pizza.
So it gives me great pleasure to share where you can find the best pizza in Pasadena. It's one of our favorite meals.
What are your favorite pizzerias in Pasadena? What do you order?
Pizza in Pasadena
1. U Street Pizza
U Street Pizza recently opened next door to its sister restaurant, Union (another favorite of mine), in the heart of Old Pasadena. After reading great reviews from many Los Angeles publications as one of the best pizzerias in Los Angeles, we couldn't wait to try it.
Now, is the hype real?
Yes. This artisan pizza is one of the best pizzas in Pasadena.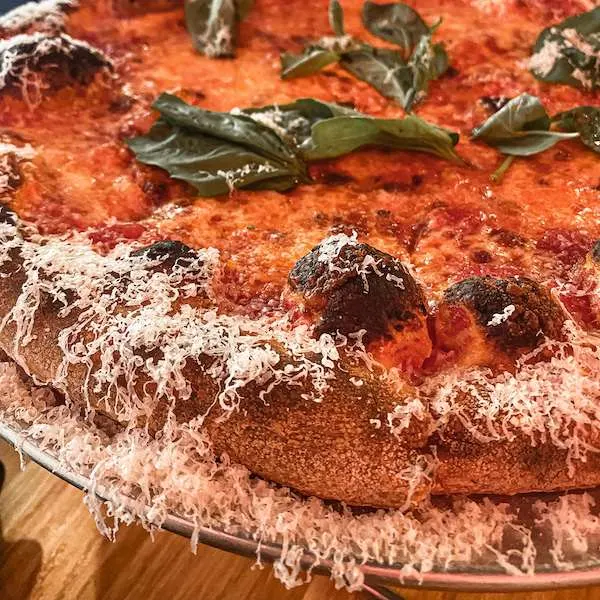 Upon them setting the pizza down in front of you, you're instantly delighted by all the parmesan cheese generously dusted around the crust. The crust is perfectly crunchy and well done, reminiscent of NY Style Pizza. But yet, the center of the pizza was slightly tender. They cook the pizza on the brick in the oven so that you can taste the char.
We ordered a regular cheese pie because it's the base of any pizzeria. How good are the ingredients? Without a doubt, U Street Pizza uses high-quality ingredients. The pizza sauce is so delicious and fragrant, with the aroma and taste of basil. The cheesiness!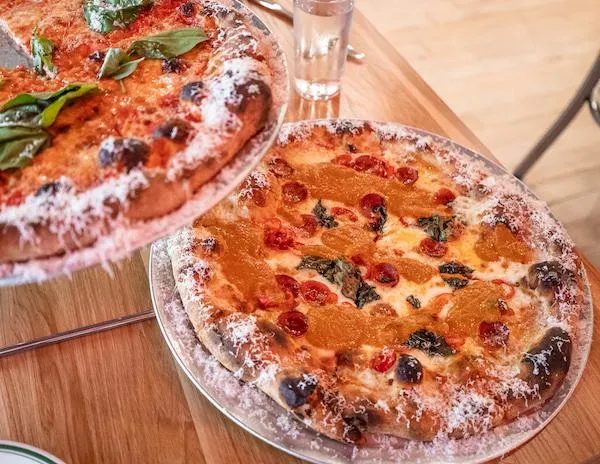 Our second pie was from their house pie… a vodka pie. This is supposedly one of the most ordered pies. Was it good? I thought the cheese pie was better. The pepperoni on the pizza was top-notch.
It is truly one of the most delicious pizzas in Pasadena.
For dessert, you may want to do what we did after and go for ice cream in Pasadena.
Update: Since we first posted this and commented on the high pricing, it looks like U-Street Pizza heard everyone's complaints (as this was a real complaint on other review sites). They have dropped their pizza prices by $3-6. Expect fewer parmesan cheese shreds coating the crust.
U Street Pizza | 33 Union St, Pasadena | Google Map It
2. Tomato Pie Pizza Joint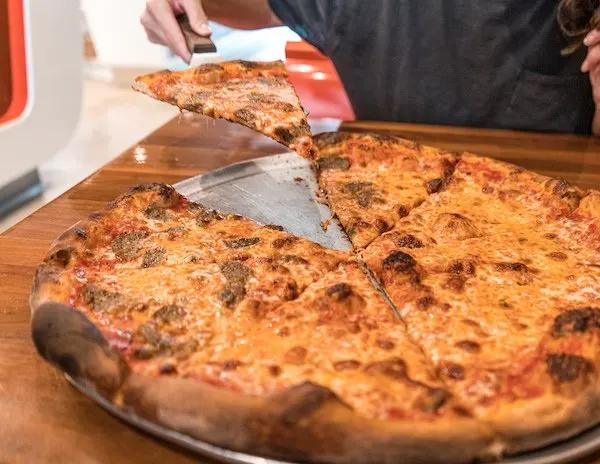 If you're looking for authentic New York Style pizza in Pasadena, you will find it at Tomato Pie Pizza Joint in South Pasadena. As a friend of ours said after visiting upon our recommendation, you'll taste New York City in every bite.
Tomato Pie Pizza Joint is a Los Angeles chain that first started on Sunset Blvd (this location no longer exists). We recently came across them in South Pasadena and couldn't believe it took me this long to discover them. They seriously reignited my long-lost love for New York Style Pizza.
Born and raised in New York, finding anything close to a New York Style Pizza has been difficult. Many pizzerias claim that's what they serve, but instead disappoint you the minute they place the pizza on a screen to cook in the oven.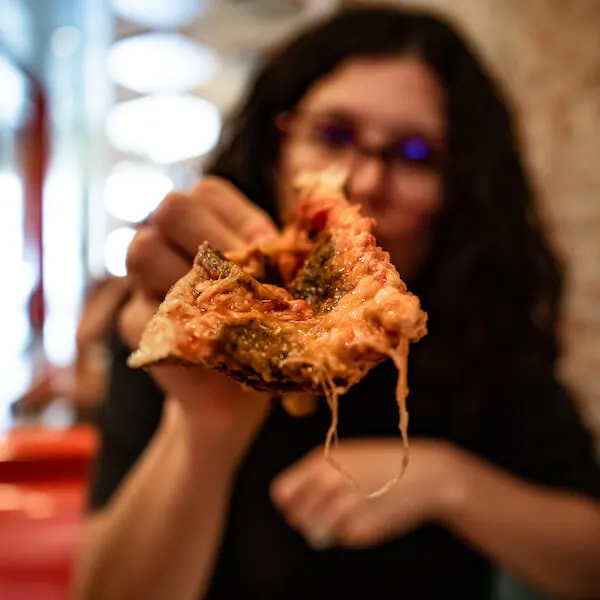 Not at Tomato Pie Pizza Joint. Their pizza checked off what are the top things to look for in a New York Style Pizza:
thin and crispy crust,
not cooked on a screen,
great pizza sauce
the right amount of cheese
and grease
We weren't expecting much, but we were in heaven after that crispy, melty first bite.
So, if you love NY-style pizza, definitely check out Tomato Pie Pizza Joint in South Pasadena or Silverlake.
Tomato Pie Pizza Joint | 1130 Mission St, South Pasadena | Google Map It
One of the best parts of Pasadena is all the delicious places to eat. Check out some of our local favorite spots.
3. Brooklyn Square | BKSQ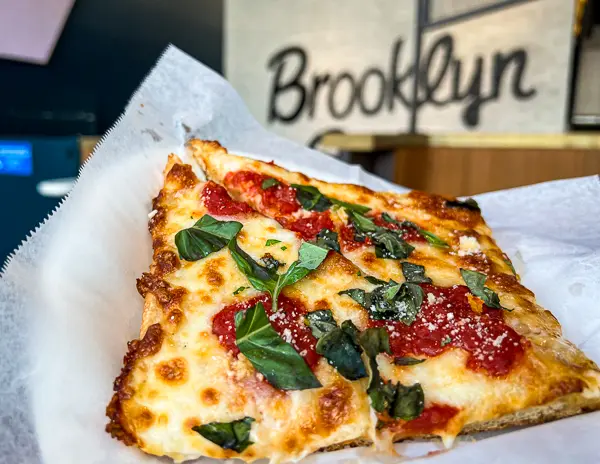 Have you had a grandma slice?
We have a New York Style Deli and Pizzeria in Old Pasadena right on Fair Oaks Ave, serving delicious grandma and thin NY pizza slices.
It had been a long time since we'd had a legit grandma slice. So we were excited to venture to Brooklyn Square and see if their grandma lived up to our tastebuds memories. Boy, it did hit the spot! We almost felt like we were back in NY.
Brooklyn Squares' regular grandma slice is crispy on the bottom, not thick but not too thin. The tomato sauce is sweet with a slight zing, even though it's not said it's spicy at all – but we liked it! And just the right amount of cheese. The basil on top brings it all together.
You must have their spicy pepperoni grandma slice if you want some heat.
We also tried a spinach ricotta slice from their regular round pies. We were surprised by house thin the slices were. You could taste the freshness of the spinach and the garlic on it.
Plus, their pizzas are not cooked on a screen.
The best part of BKSQ is that you can go there for individual slices and try whatever suits your fancy. It's also a great spot for lunch in Pasadena.
BKSQ | 61 S Fair Oaks Ave #110, Pasadena | Google Map It
4. Marina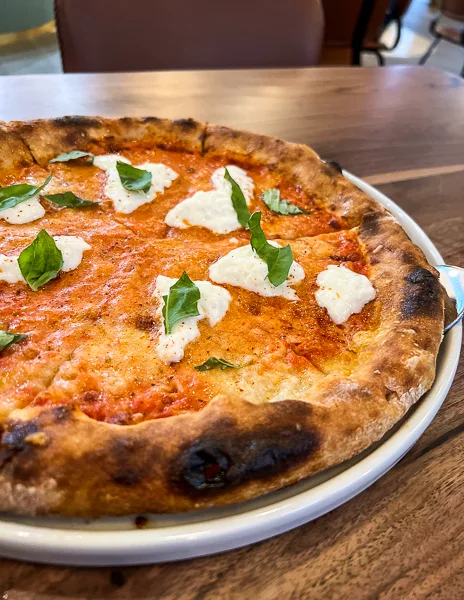 Marina is a new Italian restaurant in Pasadena, off Lake Avenue, where you can have one of the best pizzas in Pasadena.
The pizza at Marina is a cross of a New York-style and a Neapolitan, prepared with high-quality ingredients and cooked in a wood-burning oven.
Their menu offers several combinations, including a vegetarian with seasonal vegetables and a bechamel sauce that sounded delicious. Of course, we had to order the classic Margherita during our first visit.
Marina's margherita pizza has three kinds of cheese: caciocavallo, mozzarella, and burrata over their tomato sauce and then topped with basil. The flavors are everything you expect from a delicious pizza.
The pizza is super thin and, surprisingly, holds well together that you can still pick it up and not need a knife and fork like you would for a Neopolitan.
The atmosphere here is great for date night or dinner with friends. Share a pizza, some appetizers, and pasta, and pair it with some cocktails or order wine from their curated list.
Open for dinner only. We suggest making reservations or walking in. Note that a reservation will likely be your best bet as Marina gains popularity.
Marina | 841 Cordova St, Pasadena | Google Map It
5. Luggage Room Pizzeria
You must check out the Luggage Room Pizza for great pizza in Pasadena in a location with an interesting history.
Besides its unique location and history, the Luggage Room pizzeria is all about the sourdough crust cooked in a stone fire oven. The menu has unique topping combos that you probably haven't thought of ordering before but may surprise you upon the first bite.
Now, this is not it if you're looking for a crispy thin-crust pizza. It's reminiscent of Napoletana pizza with its softer center and chewy dough. You might find that you need a knife and fork to eat it, just like in Italy.
The portions are similar, too. I'd say order one pizza per person unless you share a couple of appetizers. We like to get a couple of pizzas and share. If there are a few slices of leftovers, we take them for lunch the next day.
Start with bacon-wrapped dates, you won't regret it. Then dive into a pizza with toppings of your choice.
Gluten-free pizzas are available.
Luggage Room Pizzeria | 260 S Raymond Ave, Pasadena | Google Map It
6. Settebello Pizzeria Napoletana
Looking for the best Napoletana-style pizza in Pasadena? Located in the Playhouse District, Settlebello Pizzeria is the first-ever to be verified by the VPN in the US.
What is VPN? It stands for Verace Pizza Napoletana… in summary, a Naples-based association certifies that you're making pizza traditionally with certain high-quality ingredients, with approved equipment, and so on. You can read more about that here:
This is why you'll see the Vera Pizza sign and their store sign. To indicate that it is VPN certified.
We love Settlebello's because it's as close to Naples, Italy, as we can get around here. After watching Anthony Bourdain's No Reservations Naples episode during the pandemic, I was craving. We got takeout one night, and it satisfied that craving. We've been back since that night a couple of times already.
Is it as good as the pizza we've had in Naples? It's somewhat close. I'm not going to complain because their pizzas really are delicious. You will taste the high-quality ingredients used, the woodburning fire on the crust, and it will have that soft and soupy center that you'll find in Napoletana pizzas. The crust is airy and soft, just like it should be.
The Margherita DOC is my go-to order. Their tiramisu for dessert is pretty good.
Gluten-free pizzas are available.
Settebello | 625 E Colorado Blvd, Pasadena | Google Map It
– Sign-up for Door Dash and get $30 off your 1st order! –
7. Tarantino's Pizzeria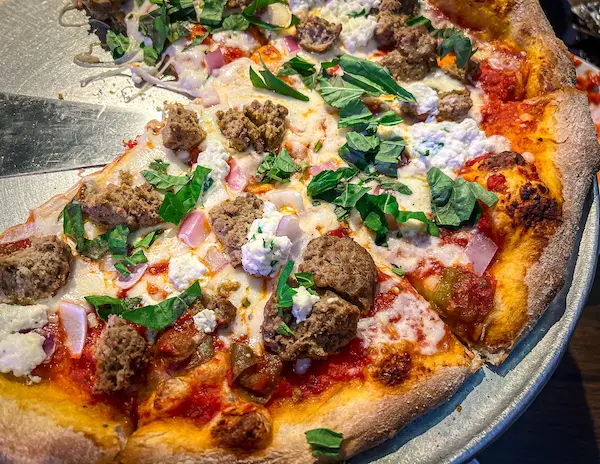 Tarantino's Pizzeria is your old-school neighborhood pizzeria joint located on Green St. This home-style Italian spot serves delicious pizzas and family-style Italian dishes.
We really enjoyed the Papalucchi's Special and added meatballs to it. We were surprised at how crispy the crust was when it came out. I loved that the meatballs were chunks broken up from bigger meatballs and were quite tasty.
Overall, Tarantin's has quite a great pizza.
While take-out is available and there is a delivery option with Postmates, dining in at Tarantino's is a treat. We love the quaint decor of the family framed photos, and red checkerboard table cloths draped over the long tables that are perfect for a family affair.
Note: It's cash only.
Tarantino's | 784 E Green St, Pasadena | Google Map It
Superb Pasadena Restaurants You Need to Try
Pasadena, California, is known to have one of the best food scenes in Los Angeles. New cafes, eateries, and restaurants in Pasadena are opening monthly. We've gathered a list of superb Pasadena restaurants you should have on your radar when exploring Los Angeles.
After years of trying pizza in Pasadena, we recommend these top ones. e know there are more pizza places out there we haven't tried, and we are ready for the challenge.
What is your favorite pizza in Pasadena?
Share the tips & love on Pinterest: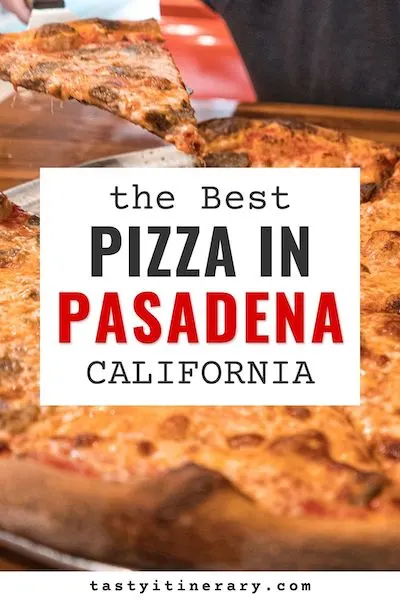 Meet Kathy Ava, a food, travel, and cruise writer based in Los Angeles/Pasadena, and the owner and main writer of Tasty Itinerary. With over 20 years of experience planning trips and logistics at her full-time job and for herself, she's become a pro at crafting unforgettable tasty itineraries. She's always on the hunt for delicious, fun travel destinations and cruise itineraries. She firmly believes that life is short and we must make the most of it, so always say yes to dessert.