Looking for Pinterest blog resources and tips? Wondering what Pinterest has to do with blogging? One word… TRAFFIC. In this post, we cover what is Pinterest, why it's important, and the Pinterest blog resources you can't blog without.
Once upon a time, I knew someone that was trying to start a blog of sorts. They were given the advice to pin to Pinterest. I did not understand what that meant. Also, I don't think this person ever found out what that meant either at the time. Now that I know what I know, my mind is blown.
Pin your posts to Pinterest.
Reach a new audience.
In return, bring traffic to your blog.
DISCLOSURE: THIS POST MAY CONTAIN AFFILIATE LINKS. IF YOU DECIDE TO MAKE A PURCHASE FROM ONE OF THOSE LINKS, WE MAY GET A COMMISSION AT NO EXTRA COST TO YOU. WE APPRECIATE YOUR SUPPORT, IT HELPS KEEP THIS BLOG RUNNING.
What is Pinterest?
Pinterest is a visual search engine.
This means people use Pinterest like Google, entering keywords in the search and a set of images related to that keyword will be presented to them. From there, users pin these images to their favorite boards. Sometimes, or more than often than not, our pins will be put in from of them, creating enough interest for them to click on the pin and go directly to our website.
For example: If you search the keyword "cruise" on Pinterest, you will find one of my most popular pins on one of the top rows. Maybe you are planning a cruise and this pin sounds like it would help with your cruise planning, you're going to click on it, right?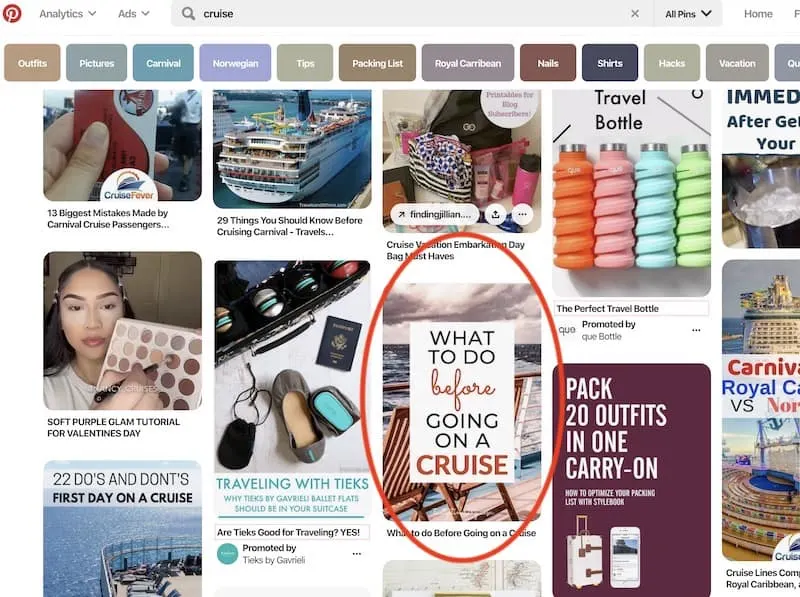 Hence, steering traffic to my blog post: How to Prepare for a Cruise.
The pin creates exposure to your content.
What did Pinterest mean to you as a regular user before entering the blogging community?
Did you think of Pinterest as a giant digital corkboard where you could pin all your dreams and hopes via images found on Pinterest?
Okay, so it wasn't just me?
I used Pinterest for years. Never once did I realize that it was a visual search engine.
Truth be told, I rarely clicked on the pins. I just liked the pretty curated photos. Ashamed to say I didn't even know links were attached to the pins. I think I was alone in that part because using Pinterest as a blogger now, I've learned that regular users DO CLICK on the pins I created to read my blog posts.
How does Pinterest help you a new blogger?
If you're a new blogger, Pinterest is the best place to start as a beginner to create:
brand awareness
drive traffic to your blog
and find an audience
Consider Pinterest as a part of your marketing efforts. Don't rely on it completely, but it is a vital part of marketing that you should understand. Especially if your audience lives on Pinterest.
Web traffic won't just find you. Without implementing great SEO (a whole other topic) and promoting your blog, you're not going to gain traffic instantly.
So, promotion is key and Pinterest can help you with that. That's why I include 2-3 Pinterest images in every blog post, so readers can help me share the love. The more they share on Pinterest for me, the more traffic I can gain in the long run.
Fun fact: Did you know that Pinterest has over 320 million active users? Just think about that.
Pinterest Resources You Can't Blog Without
A Pinterest Business Account
Canva (free to use to create designs)
Pinterest By Ell (course)
Next Level Pin Design (course)
Optional:
Tailwind (scheduler that I only recommend if you have no time to schedule pins manually on Pinterest – save your money)
Adobe Lightroom – to edit photos
Adobe Sparks
If you sign up for the Adobe Creative Photography Plan it includes Lightroom, Sparks, and Photoshop for a small monthly fee.
Steps to Get You Started on Pinterest
Create a Pinterest Account
First step: sign up for a Business Account
A Pinterest business account is FREE.
You want a business account so you can claim your website and have access to analytics.
Second Step: claim your website on Pinterest
By claiming your website you're optimizing your Pinterest profile and making sure the pins you upload pins are linking with your site information.
Third step: update your Profile
Your profile should be keyworded. It should describe your website and what you are offering your readers.
Fourth step: take a Course or two
There is plenty of free Pinterest information out there. You can even do a Pinterest search and start trying to gather what's the right way of doing things.
You can also just wing it, but why waste time? When you can just take a course that explains how to do it all and get you started the right way. Set yourself up for success!
These two courses are worth every penny:
Pinterest with Ell
This is the first Pinterest course I paid for and the best one to date. It is affordable and Ell updates it frequently. Not only that, Ell is super helpful and ready to answer any questions you may have on her Facebook group. Apply her methods and watch your traffic grow.

Next Level Pins
Another affordable course that taught me to think outside the box when creating Pinterest pins. I purchased this course on a whim during a sale and it turned out to be a gem. Learn how to create eye-poppin' Pinterest pins on Canva. The more you create, the better you get. Just check out the pins I've created here.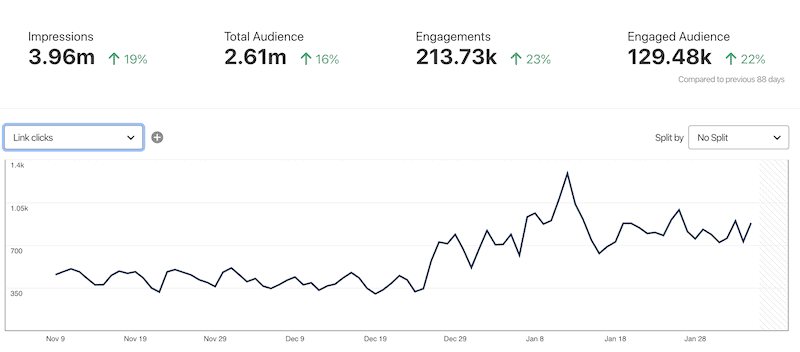 The combination of these two courses is a great start for any blogger or anyone looking to bring traffic to a website.
Is your blog legally protected?
---
Hope these Pinterest Blog Resources gave you some insight and helps you get started on Pinterest.
---
Share the tips & love on Pinterest: