Thinking about a day trip to San Francisco? Wondering what to do with one day in San Francisco? There is enough to have an exciting, fun, and quick day in the city by the bay.
San Francisco is a vibrant city with its own personality. It has beautiful architecture, great food scenes, diverse neighborhoods, and incredible sites. It's one of those cities that surprises you and impresses you greatly once you're there.
The epicness of the Golden Gate Bridge will astound you in person. Pictures don't do this bridge justice.
The first time you hop on a cable car while still in motion will shockingly delight you. It's fun. You'll wonder why we don't have cable cars in every city.
Fisherman's Wharf is full of energy and quirky characters. And you can't miss Boudin's sourdough bread while you're there.
The Ferry Building is filled with so many tasty eats you want to spend your afternoon trying everything. You'll want to save room for a sundae at Ghiradelli's Square.
Did you know several California foods were inspired and invented in San Francisco?
Our first time in San Francisco was a spontaneous trip. One that hubby wasn't too keen on because, back then, he didn't understand why I wanted to go there so badly. While there, he fell in love with the homes, the cable cars, North Beach "Little Italy," Chinatown, and so much more.
We loved it all. We had a fabulous time. However, since our last visit, we've heard that San Francisco has changed so much. But the core of what makes San Francisco, its culture, history, food, and architecture, is still very much what makes San Francisco great.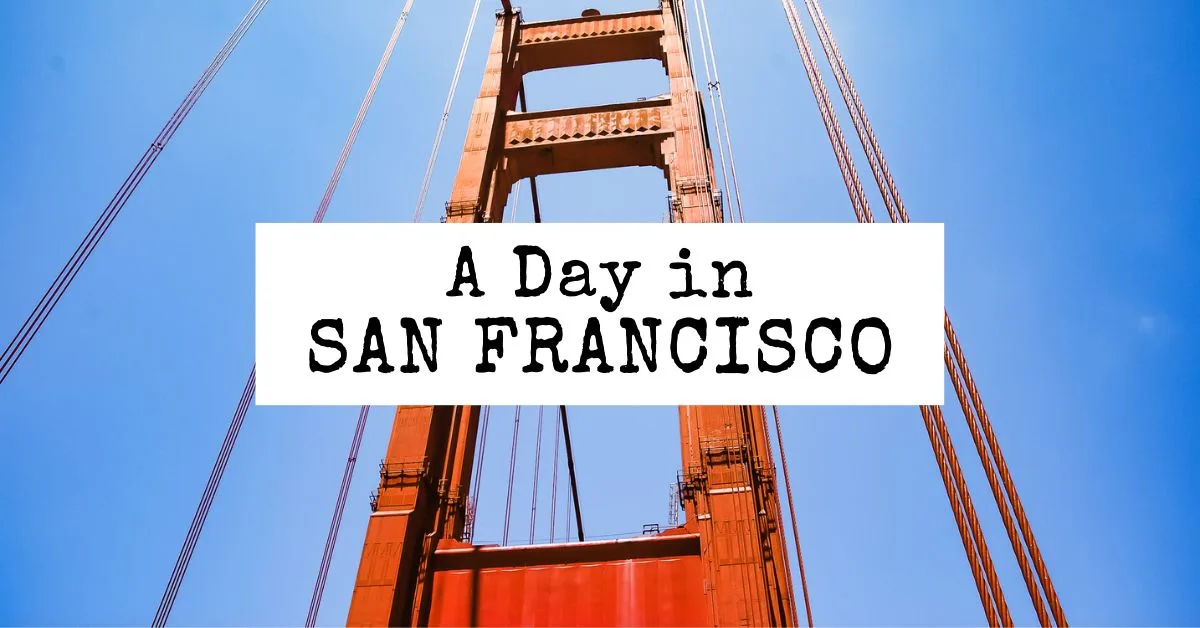 This post may contain affiliate links, which means we'll receive a commission if you purchase through our links at no extra cost to you. Please read full disclosure for more information. We appreciate your support!
From Los Angeles or Southern California, it's an easy day trip to San Francisco. It is entirely possible as long as you plan it correctly. Book the earliest flight in and the latest flight out.
You can also stay overnight and enter 24 hours in San Francisco. As long as everything goes smoothly, you'll get a great sense of what this animated city offers.
Tips for a Day Trip to San Francisco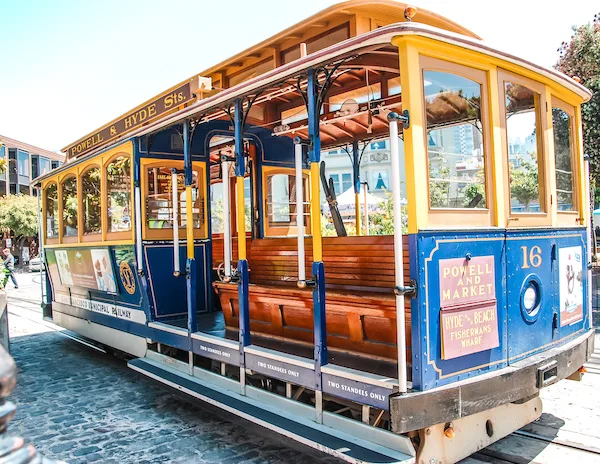 1. Start your day early
Start your day as early as possible. Take that first flight out of the day. Or if you are within driving distance, be ready to get on the road to San Fransisco in the early morning.
2. Wear layers
Depending on the time of year, you'll want to wear layers. Especially if you go in the summer, one moment you're freezing and the next, it's the middle of a sunny day, you're hot. It can get very windy and chilly in San Francisco.
Bring a jacket.
3. Wear Comfortable Shoes
I'd call the city walkable if it weren't for the steep hills throughout San Francisco. There is a reason locals rely on public transportation. However, comfortable footwear is a must, especially if you plan to walk across the Golden Gate Bridge.
4. Have an Itinerary planned
Plan your day out. At least pinpoint the top 3 things you want to do and start your itinerary from there. See how you can fit those into your day trip to San Francisco.
5. Get a One Day Visitor Passport – Muni Pass
Use public transportation. Do not rent a car unless you have driven in on a day trip to San Francisco… Do not rent a car. It's not the best way to maximize your one day in San Francisco. Plus, parking is limited, and when there is parking, it's expensive. You're better off taking public transportation or Uber-ing.
These passes are of great value to help you get around the city using public transportation. They offer unlimited rides on Muni, Muni Metro, and historic cable cars. Not valid on the Bart or other transit symptoms. You can easily get one on the Munimobile app – download it to your phone.
How much is a one-day muni visitor pass in San Francisco?
$5 per day pass on Munimobile. So download the app before your trip..
Sold at SFMTA kiosk or available online on Munimobile.
6. Consider a Hop and Off Bus Tour for Your One Day in San Francisco
Normally, I'm not a huge fan of these buses. However, with limited time, this is a great way to get around the city to see it quickly. Also, you can get on and off at some of the biggest sites. This one includes a drive right over the Golden Gate Bridge.
One Day in San Francisco Itinerary
From experience, these are the best things to do in San Francisco in one day. How long you plan to spend at each San Francisco spot listed is up to you. Plan accordingly. Give yourself some time between sites.
You may want to swap or eliminate a few things from this itinerary for a tour or other things to do in San Francisco.
Breakfast at Sears Fine Food
You'll want to take a taxi or an Uber straight to breakfast. Trust me, start your day off at Sears Fine Food.
Sears Fine Food is a local spot with the best mini Swedish pancakes and corn beef hash. There might be a slight wait to be seated, but it is worth the small wait.
After a hearty breakfast, you'll want to head straight to the Golden Gate Bridge.
Sears Fine Food | 439 Powell St, San Francisco | Google Map It
Best Things to Do in Downtown Los Angeles
If you're looking for things to do in Downtown LA, look no further! This guide will show you some of the best architectural gems, food markets, museums, and city views.
See and Walk the Golden Gate Bridge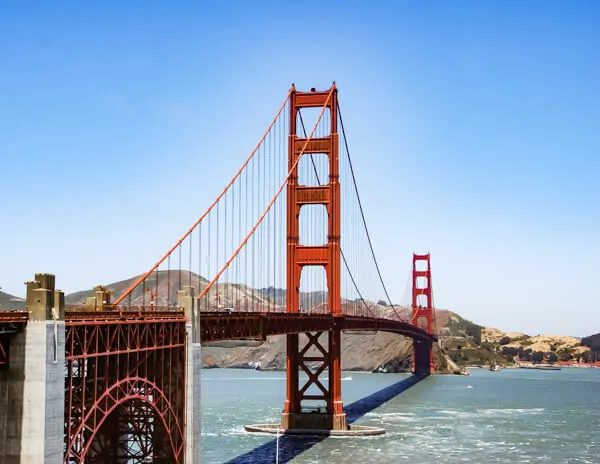 The Golden Gate Bridge is the one must-see site in San Francisco. It is one of the modern seven wonders of the world.
Our friend once drove her then-boyfriend and now husband from Los Angeles to San Francisco so that he could see the Golden Gate Bridge for the first time. They were there for a few hours before journeying back to Los Angeles. Crazy, right?
Starting the first half of your day trip to San Francisco at the Golden Gate Bridge is what we would recommend. If you go too early, you may be greeted by fog. By the time you have breakfast and start your journey to the Golden Gate Bridge, the fog will hopefully have started to lift.
We got so lucky during our time in San Francisco. Clear skies and little to no fog. We walked across it, and it was windy, but an experience we'll never forget.
The walk across it is incredible. It is 1.7 miles. Depending on how fast you walk, it will take 30 to 40 minutes each way. Give yourself 2-3 hours for this part of the day.
If you decide to forgo breakfast and start early at the Golden Gate Bridge, it's probably a good time to miss the crowds.
How to get to the Golden Gate Bridge?
Uber for about $15 to $20 for a 15-20 min ride from Sears Fine Food.
Muni Bus

From Sears Fine Food, you'll first have a 2-min walk to Geary St. and Powell St. to catch the 38R towards Lands End.
Hop off at Geary Blvd & Park Presidio Blvd.
Walk across the street on Park Presidio Blvd to catch the 28 North Point bus.

The 28 North Point bus route is the one that will take you directly to the Golden Bridge Welcome Center.
Golden Gate Bridge Welcome Center | Coastal Trail, San Francisco | Google Map It
Tour Ideas:
Golden Gate Bay Cruise Leaving from Fisherman's Wharf [Book Tour Here]
San Francisco Golden Gate Bridge to Sausalito Guided Bike Tour [Book Tour Here]

Pier 39 at Fisherman's Wharf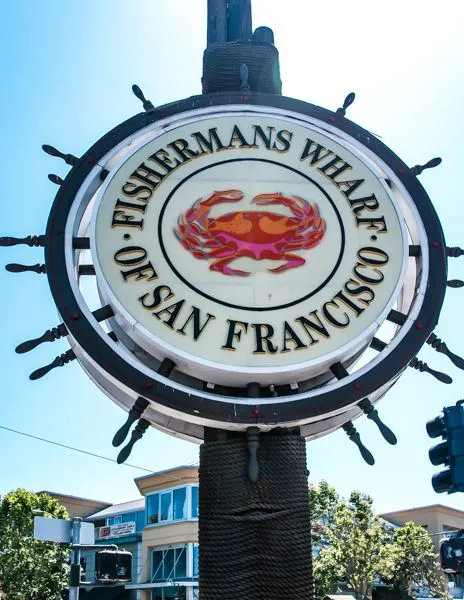 After the Golden Gate Bridge, it's time to explore Fisherman's Wharf.
Some will say Fisherman's Wharf is crowded and touristy, which is true. However, it is still a classic thing to do in San Francisco. Keep it on your San Francisco itinerary if you haven't been there before.
Fisherman's Wharf is normally action-packed with restaurants, street food, shops, entertainment, and much more. You'll want to walk around, people-watch, and see what makes Fisherman's Wharf special.
You will also have views of the Golden Gate Bridge and Alcatraz Island from Fisherman's Wharf.
Watch for sea lions sunbathing and rolling around at the docks.
You can take boat tours and rent an electric scooter or bicycle here.
Foodie Pick: Have a bread bowl soup at Boudin Bakery Cafe. Their sourdough bread is really good, and it's a known food from California that originated from Boudin Bakery.
How to get to Fisherman's Wharf?
Hop-On and Hop-Off Bus Tour
Munibus

From Golden Gate Bridge, welcome center parking lot, hop on the 28 North Point Munibus.
Hop off at North Point St & Jones St.
Walk North on Jones Towards the coast and Fisherman's Wharf.
The cable car does run a route to Fisherman's Wharf but not from the Golden Gate Bridge. To hop on a cable car, you'll want to be closer to Powell and Mason St or Powel and Hyde St. For more info click here.
Fisherman's Wharf | Google Map It
The Ferry Building Marketplace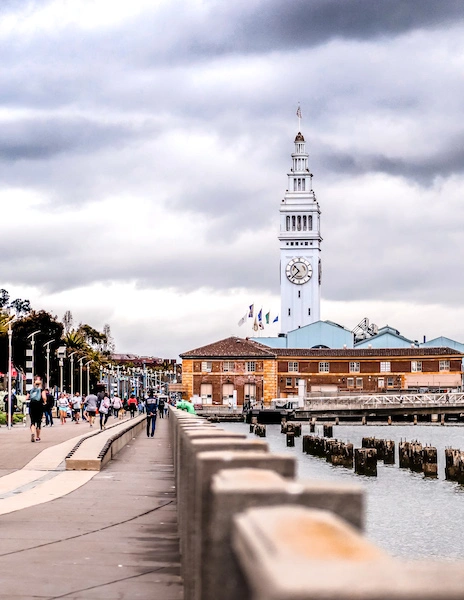 From Fisherman's Wharf, walk East to the Ferry Building Marketplace.
The historic Ferry Building opened in 1898 with a 245 ft clock tower standing on top of it. It was a travel hub for travelers arriving by train. Today it is a food hall and a ferry terminal.
This is a great spot to have lunch. There are plenty of places to eat by the water. You'll find fresh produce, food trucks, coffee shops, cheese shops, and the famous CheeseQuakes! Dessert shop from Zoey's Extraordinary Playlist.
This is also a great opportunity to support small businesses by taking home some foodie souvenirs.
The Ferry Building | 1 Ferry Building, San Francisco | Google Map It
Ghirardelli Square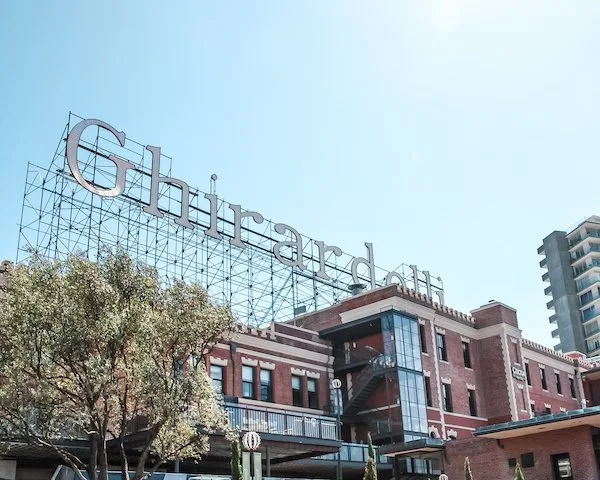 After the Ferry Building, head back west towards Giharadelli Square.
Ghirardelli Square is about the chocolate, ice cream, and recognizable Ghirardelli sign. You can make this a quick visit or line up for ice cream and chocolate for the experience.
When we went, we waited in line with visitors and locals, telling us it was the best ice cream around. If it's a cold day, look for hot chocolate. If it's nice, definitely splurge on a sundae.
Ghiradelli Square | Google Map It
Visit Iconic Lombard Street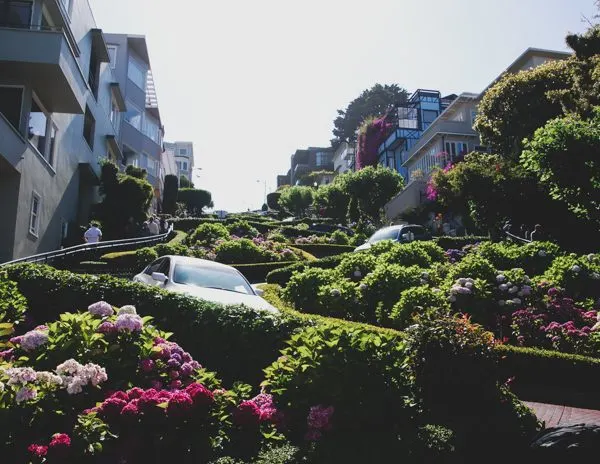 Lombard Street is known for having the most crooked street in the world. It's an iconic street surrounded by beautiful landscaping and gorgeous homes. I have to say the architecture surrounding this area is my favorite part.
You can't walk on the crooked street – for safety reasons. But there are pedestrian stairs on either side of the crooked street where you can walk up and down.
How to get to Lombard Street?
Walk – If your calves can handle it, you can walk to Lombard St from Fisherman's Wharf.
Cable Car

Use your Muni Visitor's Day Pass to take the Powel/Hyde route near Ghiradelli Square
Exit at Lombard Street. You'll have to walk a bit to the actual crooked street.

Uber – Quick ride for $9.
Lombard Street | Google Map It
Tour Idea:
GoCar Tour: Golden Gate Bridge & Lombard Loop [Book Tour Here]
See the Famous Painted Ladies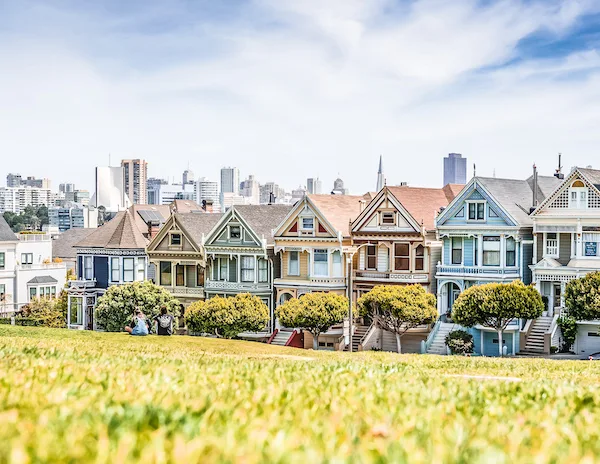 Another fun thing to do on your day trip to San Francisco is to see the famous Painted Ladies in Alamo Square. I'd say this is just something to check off the list or add to your instagrammable collection of photos.
The stretch of colorful Victorian homes is best known and featured in the TV Series Full House and Fuller House beginning credits. The painted ladies stand beautifully on Steiner St across Alamo Square Park, with the San Francisco skyline behind them.
How to get to the Painted Ladies?
Cable Car & Muni Bus (travel time: 45 mins)

From Lombard Street – Walk to the corner of Taylor St and Columbus St.
Hop on the Cable Car
Exit at Powell St and Market St.
Get on the 5/5R Muni Bus
Exit at Mcallister St & Fillmore St.
The Painted Ladies | Steiner St & Hayes St, San Francisco | Google Map It
33 Top Los Angeles Attractions
Visiting Los Angeles, California? Planning to explore and be a tourist in LA. Walk amongst the stars on Hollywood Blvd. See the spectacular views of Los Angeles from the Griffith Observatory. Take a short ride on Angel's flight. Here are the top attractions in the city of Angels.
Other Options to Include for a Day in San Francisco
The Itinerary above is great for a day trip to San Francisco with an evening flight out or if you need to drive home that night.
If you're staying overnight in San Francisco and spending 24 hours in San Francisco, we recommend adding a couple of the other experiences below.
You can play around with your one-day in San Francisco itinerary. Swap out or add one or two sites or activities from the itinerary above for one or two of the following.
Book a Trip to Alcatraz Island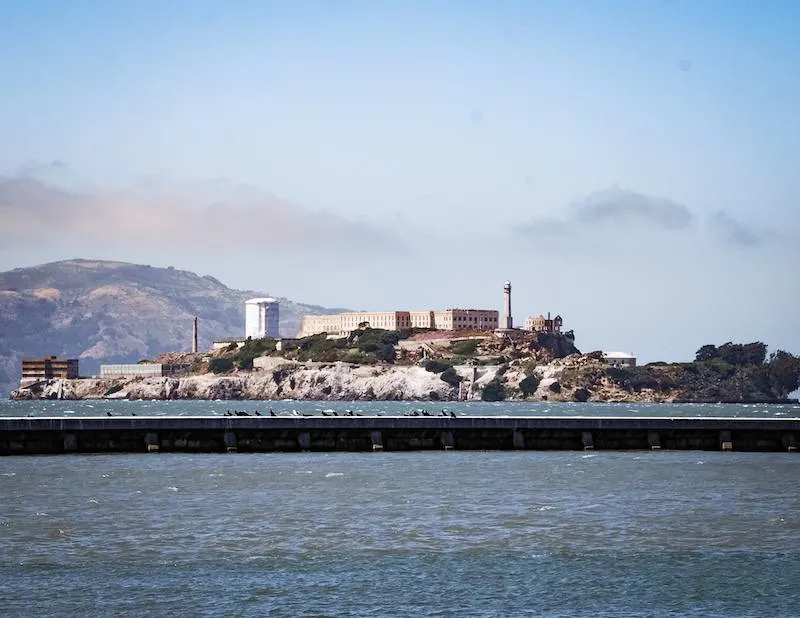 Alcatraz Island is one of the top attractions in San Francisco. If it were me, we'd visit the Golden Gate Bridge and go to Alcatraz. You will not be disappointed with your visit to The Rock.
It's a wonderful ferry ride to and from Alcatraz. Once you reach Alcatraz, definitely do the audio tour of the prison. The history behind the island and the prison is fascinating. It's an audio tour I didn't get bored listening to. Tip: you can bring your own analog headphones.
Tickets to Alcatraz have to be booked in advance. If you plan to visit San Francisco and know when you'll be there, book Alcatraz as soon as possible, as they sell out fast. The tickets do include the round-trip ferry.
Night tours are available and limited. You'll have to stay overnight in San Francisco to do this tour.
Alcatraz Island | Book Tickets Here
Sunset and Cocktails at the Top of the Mark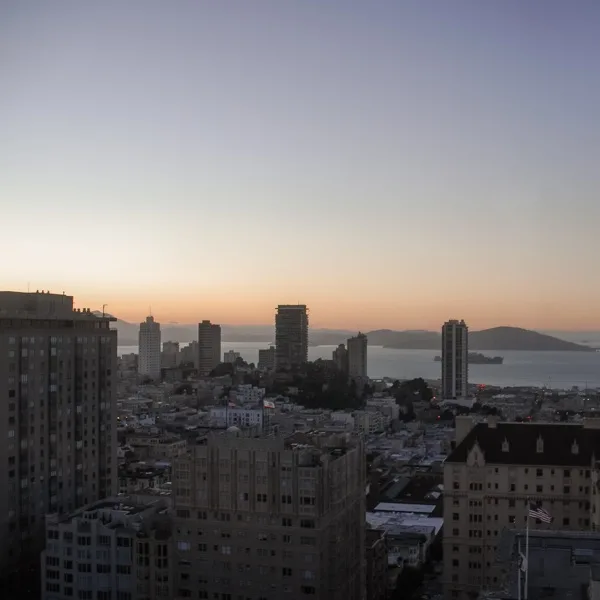 Another one of our favorite San Francisco experiences is sunset and cocktails at the Top of the Mark. The views are remarkably beautiful, the cocktails top-notch, and so is the food. It's a little pricey but worth the views and the experience.
Walk-ins are welcomed. We showed up to stand online before sunset and were seen at a fantastic table by the window. If you're only in San Francisco for the day, make reservations.
Top of the Mark | 999 California St, San Francisco | Google Map It
North Beach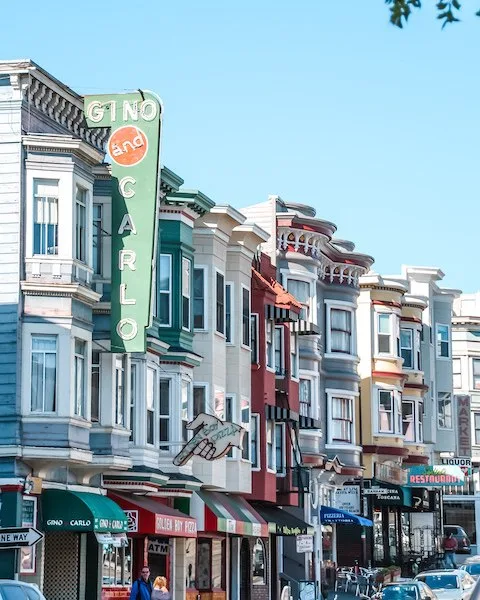 The neighborhood of North Beach is known as the "Little Italy" of San Francisco. Tons of old-school Italian restaurants, cafes, and shops. Super charming and what some say is "old San Francisco".
This is one of our favorite areas. Our go-to Italian restaurant in North Beach closed due to the pandemic, and we are heartbroken.
While there are a few steep hills, you can start your journey and explore North Beach from Fisherman's Wharf. Take Columbus Avenue straight to North Beach and then continue to Chinatown.
North Beach | Google Map It
Chinatown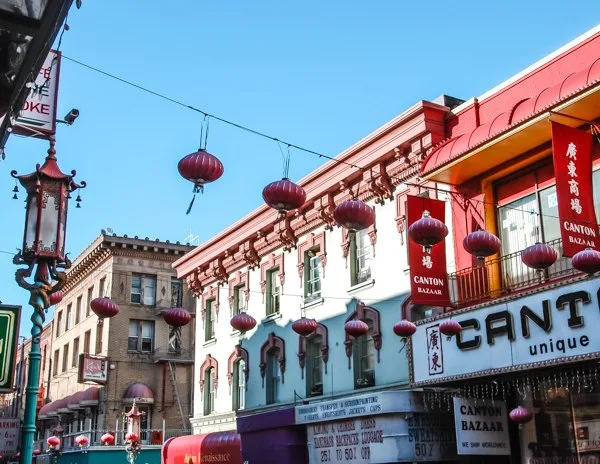 Did you know that San Francisco Chinatown is the oldest Chinatown in North America? It's also the largest outside of Asia. This area is fun with Asian architecture, Chinese lanterns swaying above streets, murals, and delicious restaurants.
Check out Golden Gate Fortune Cookie Factory, see how they make fortune cookies, and also get some samples.
Maybe plan to have a quick dim sum.
Tour: Free Tours By Foot has a FREE Chinatown walking tour they do once a week. You only have to give them a reasonable tip at the end of the tour.
North Beach | Google Map It
San Francisco Cable Car Museum
If you have time and are already in Chinatown, stop by the Cable Car Museum. It's a FREE museum that is open almost every day of the week except Mondays.
This is a fun and educational stop. You'll learn about the history of San Francisco's cable car system. Historic cable cars are displayed. And you'll get a great view of the huge engines and cables that run the cable cars currently running their routes.
You'll probably spend 30-60 minutes here.
Cable Car Museum | 1201 Mason St, San Francisco | Google Map It
San Francisco is a fun city and great for a quick day trip. Hope this post helps you plan one day in San Francisco. You'll understand why people love (and don't love) this city.
Are you planning a day trip to San Francisco? What is the one thing you must do on your one day in San Francisco?
Share the tips & love on Pinterest: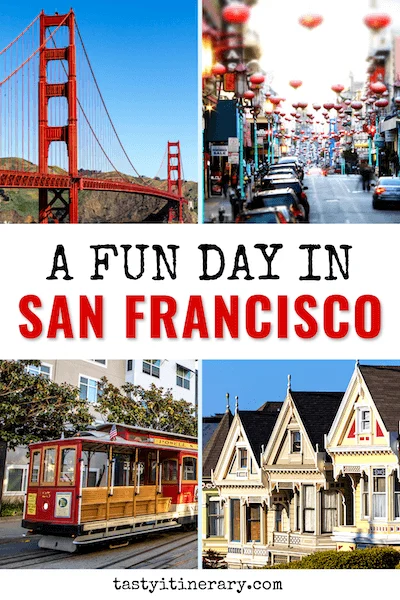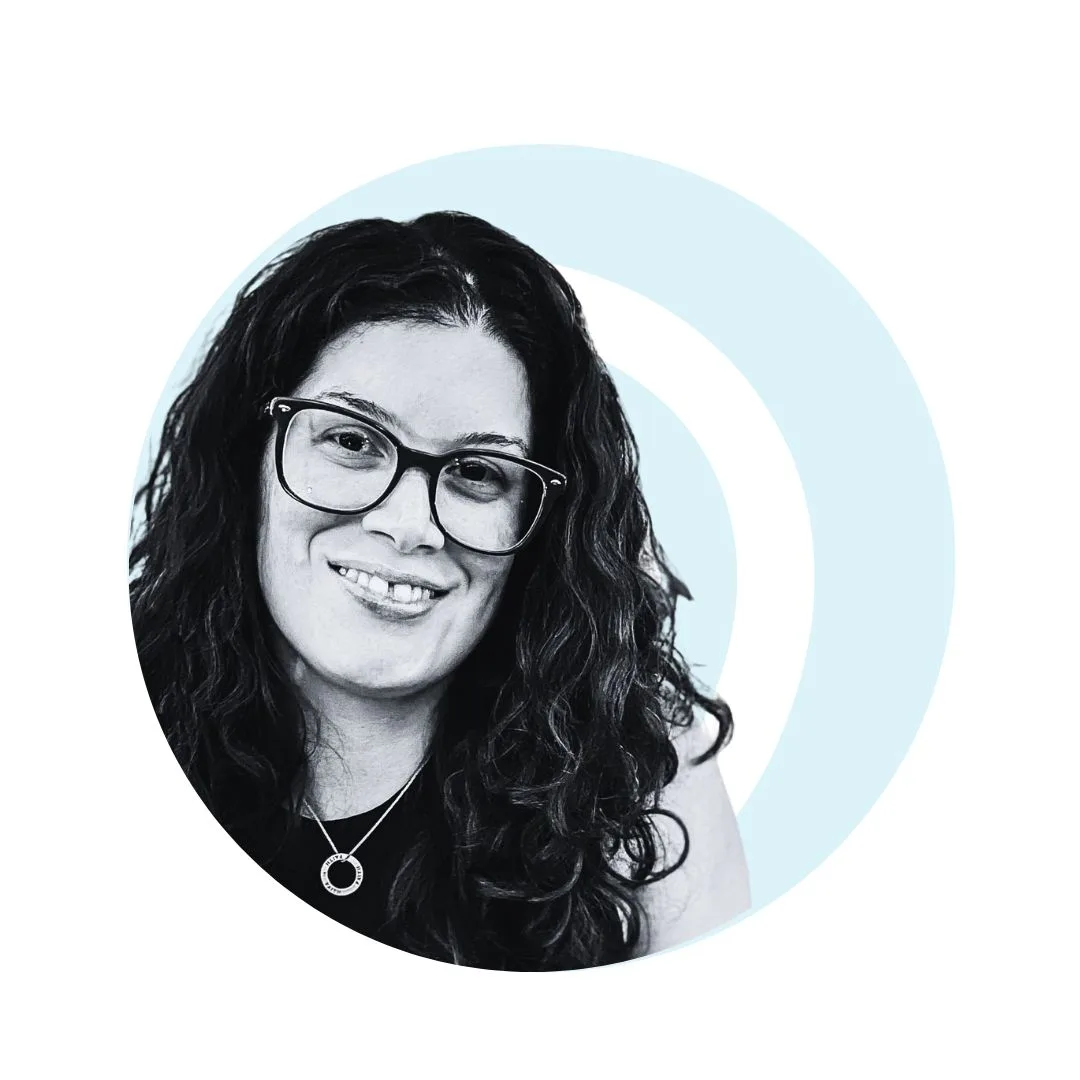 Meet Kathy Ava – a food, travel, and cruise writer based in Los Angeles/Pasadena. With over 20 years of experience planning trips and logistics at her full-time job and for herself, she's become a pro at crafting unforgettable travel itineraries. She's always looking for delicious, fun cruise itineraries and travel destinations and is slightly obsessed with Italy. Her passion and curiosity for travel started in childhood on her yearly and sometimes bi-yearly trips to PR. She firmly believes that life is short and we must make the most of it – so let's explore the world and make some incredible memories.