The past 6 months I've been thinking about writing some lifestyle posts. The kind of posts that lets me spill out all the deets about, you know… LIFE. Because let's be real, I'm not traveling 365 days a year and there is more to Kathy's World than just vacations. So, tell me again, why the f**k can't I write about life? As a blogger, do I niche down or not?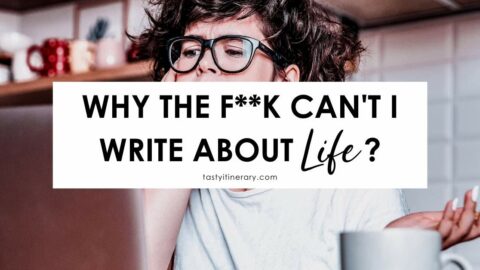 Disclosure: This post may contain affiliate links. If you decide to make a purchase from one of those links, we may get a commission at no extra cost to you. We appreciate your support.
You Have to Niche Down
Over and over again I've been told or I've read, "You have to niche down." Have you heard the same? It's kind of infuriating, especially because it sounds so restricting. I personally don't like to be cornered and stuffed in a small box.
All I could think was, why the f**k can't I write about life?
If you put all annoyance aside and really think about it, you realize there is truth to this. You don't want to start a blog without knowing why, what and who?
Why, What and Who?
Why do you want to blog?
What are you going to write about?
Who are you writing to?
These are all valid questions that are going to help you find a niche. You don't want a blog that is all over the place one moment sharing your favorite recipe and then next day you're speaking about home decor. What is the core focus of your blog?
Mine is travel. I write about our vacation time and provide food, cruise and travel tips. Still, though, it's still too much of a general topic. I should niche down and find a niche within the travel niche I can serve. Yet, I don't want to. However, I know that if I at least keep it all related to travel that is good enough for now. I know who I want to serve, it's the reader that dreams of taking those vacation days from work to go somewhere new and yet never pushes the button to book that trip.
If you know a specific audience you can serve, focus on that. Write quality posts that will serve that audience because this is how you're going to grow.
Don't blog about your favorite recipe today and then tomorrow jump to home decor. New readers will be confused upon visiting your blog wondering what is the point of your site. That's not what you want. You want to build a solid relationship with your readers and gain their trust. They'll continue returning because they can count on you for that specific topic.
It's best to stay consistent. Remember your why. Why did you want to start a blog in the first place? What difference are you trying to make? How do you plan to help those readers out there that don't know yet that they need to read your blog? This is how you're going to gain your readers' trust and form a solid relationship with them. They'll keep coming back because they know they can count on you on that specific topic.
To Niche Down or Not
So if you're reading this and you are just starting a blog, you should focus on your niche.
Remember your why. Why did you start your blog?
Become the master of your niche.
Be consistent. Show up for your readers.
Earn their trust.
Don't give up.
---
A Love and Hate Affair with Instagram
Cause you know you love and you hate it. Read some survival tips on how to survive Instagram.
---
More than just a travel blog
Now I will continue to contradict myself and inform you that after years of travel blogging, I plan to dabble outside of my niche. Yup, I'm following the opposite path and plan not to niche down. I'm going to rebel. I'm going to take Tasty Itinerary and explore new topics outside of travel.
They say (other bloggers out there) that once you reach a certain level of success and have a core audience that you can branch out. Have I reached it? No. Am I growing every day? Yes. Right now, I'm just doing what I want because sometimes rules are meant to be broken. At the end of the day, I'll take the advice I think makes sense for me and ignore others. Of course, you should always use your common sense.
I am still organizing my site in a way that keeps travel the main focal point. You will always reach my homepage and see everything travel related.
I created Kathy's World, where you'll find everything that doesn't belong under the travel category. It's nice not to feel so restricted and to have conversations about other topics outside of travel. Think of Kathy's World as a side hustle. ?
Who is Tasty Itinerary?
In case you're wondering…
I'm Kathy, the person behind this blog and I'm not on a plane every day traveling to a new destination. That's just the truth.
Every now and then I get the inspiration to write something completely out of the norm or at least what you would normally not see on the Tasty Itinerary blog.
My job, the one that actually pays me, keeps me busy 4 days a week.
I eat out more than I cook. When I'm home and hubby is working, I like to pull out my favorite cookbook to prepare dinner. Sometimes I'll cook an old family favorite. I bet you're wondering, what is your favorite cookbook? If you're curious, I'm sort of obsessed with this one recently.
I believe in being authentic, practicing self-love and faith.
I love to watch TV. Hello! Did you finish watching the last season of the Handmaid's Tale? Let's discuss!
I loved baked goods way too much. I can't resist chocolate chip cookies. Don't you dare put one in front of me! Oh, who am I kidding?! Bring them on!
Lattes are my jam! An extra shot of espresso, please! How do you like your coffee?
I love warm Spring and Summer days.
Did you know I make dog food for my furbabies every week? Yes, I'm that kind of dog mom.
I also think life is too short to live without the things we love like cupcakes, lattes, pizza, and chocolate chip cookies. Yup, the 4 major food groups. What are your 4 major food groups?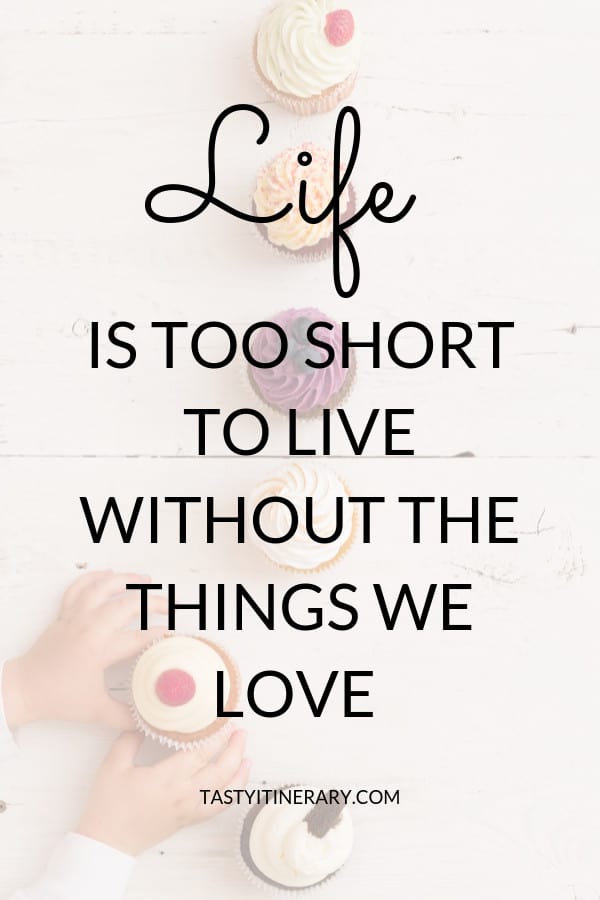 You'll now find a lifestyle section of my site with topics outside of travel and blogging resources.
Why Don't I Just Create Another Site?
That's a smart idea, why didn't I think of that??
I thought about it. It would make sense for me to start another blog, but I really don't care to run a full lifestyle blog and I'm not planning to post every week or even every other week. I don't even know what I'm posting to Kathy's World next?
I'm taking suggestions below! And, I do not have the time to keep up with a 2nd blog site. Maybe in the future, if these unrelated travel posts do well, I will consider it.
For now, I'll stick to building this blog. I just want a little space to blog about other fun things in life or maybe even serious stuff. Who knows?! That's the amazing part of life, it's like a funhouse, you just never know what surprises are in store.
When I created this blog, it started from a path of self-care. It was something I needed to do for myself and it has grown into so much more. Now it's become more than just where I come to share my travels, it's a spot that holds inspiration for others to plan their Tasty Itineraries. Some may not agree, but I think it's okay for the blog to grow in other directions.
And perhaps, we'll find something else in common outside of travel. Let's have conversations about all things.
Am I a Travel Blogger or Blogger?
I never actually officially call myself a travel blogger. I'm not going to lie, there was a short time that's what my bio said and then I changed it to blogger. I write about travel. Because from early on I thought, why should I be cornered into a specific niche? But I guess, if you put two and two together, I'm a travel blogger.
This is something I struggled with for some time and I'm just finally saying, screw what everyone else is doing. Really, at the end of the day, who the f**k cares? I'm blogging, sharing what I know, and hopefully serving you in some way, shape, or form.
Maybe sharing my perspective will help another blogger struggling whether they should niche down or not, figure out the path they want to take.
That said, the main focus of the blog: food, cruise, and travel. That's front-page news! Always. My goal has always been to inspire people to take that vacation and travel. To go venture out to beautiful new places and eat amazing food. I won't give up telling you about our wonderful adventures.
My love is to travel. I countdown to the days to my vacation time. Always planning where hubby and I are off to next. It's my goal to help you do the same. I just don't believe I have to niche down to accomplish that.
---
What are your thoughts? Are you planning to niche down or not? Or are you asking yourself the same question, "why can't I write about life?"
Will you be following Kathy's World? Is there anything you'd like me to write about? Let me know in the comments!
---
Don't forget to share the love on Pinterest: