What are the must-visit museums in Pasadena? If you're looking for a cultural and educational experience in Pasadena, California, then check out some of the city's fantastic museums.
One of the best things about Pasadena, California, is its rich history with many historic homes and buildings. And, amongst the tasty itinerary of fabulous eats, parks and gardens, the Rose Bowl, and fun hikes, it also has some amazing museums.
Museums are also not always on everyone's itinerary. Especially as locals, we tend to forget what is in our backyard. When it comes to museums, we'll admit we're guilty of this, too. Yet, when we travel, we visit every museum; usually, they are large, overwhelming all-day affairs.
What I love about the museums in Pasadena is that they aren't overwhelming in size. You don't feel like you need to rush to see everything. Unless you're visiting the Huntington Library and planning to explore all their exhibits and gardens, too, you'll want to spend a good part of the day there.
If you're visiting from out-of-town or spending the day in Pasadena, add a museum visit to your itinerary. Have lunch in old Pasadena and plan an afternoon at a museum in Pasadena.
Whether you're in town for a few days or just passing through, include one or more of these institutions on your Pasdena itinerary.
There's something for everyone here, from art lovers to history buffs. Pick a museum that piques your interest. Explore it. Learn from it. Tell us what you loved about it.
We'll be taking advantage of my Huntington Library membership to explore the art galleries that have recently opened.
In this post, we share 8 must-visit museums in Pasadena that are guaranteed to offer something for everyone.
Museums of Pasadena
1. The Norton Simon Museum
The Norton Simon Museum is one of the most popular museums in Pasadena. It features an incredible collection of European art and works from Asia and the Americas. You will find everything from ancient to modern art and a collection of canvas and sculptures for a small-medium-sized museum.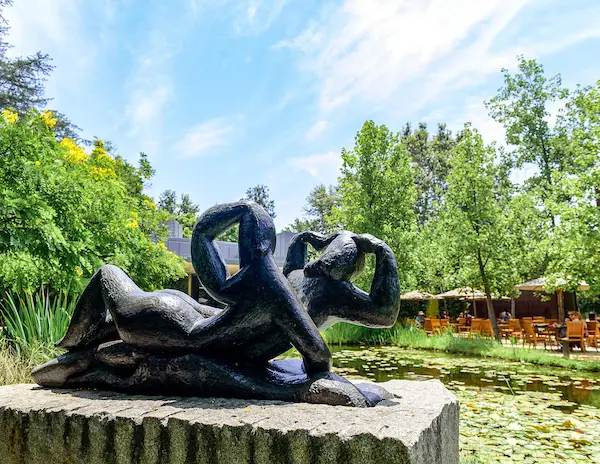 The museum is also home to a beautiful sculpture garden – one of our favorite parts.
And, there is a lovely outdoor cafe at the museum for your enjoyment. On a beautiful spring day, it's the perfect spot to grab a cup of coffee and sit outside in this garden.
Closed on Tuesdays and Wednesdays.
Open 12 pm to 5 pm
Norton Simon Museum | 411 W Colorado Blvd, Pasadena | Google Map It
2. Huntington Library, Art Museum & Botanical Gardens
One of the most famous attractions in all Pasadena is the Huntington Library. It is known for its exquisite gardens and over 100 acres of botanical gardens to explore. However, it is also a museum with many galleries for viewing art from centuries past and exhibits featuring present artists.
While most art exhibits are closed due to the pandemic, the American Art Galleries are open.
Open from 10 am to 5 pm.
Closed Tuesdays.
Free days are available – book in advance.
The Huntington Library | 1151 Oxford Rd, San Marino | Google Map It
Top Parks and Gardens in Pasadena
Discover the beauty of nature in Pasadena. Here is a list of the top parks and gardens in the city, perfect for a relaxing day out. From peaceful gardens to sprawling parks, you'll find your ideal spot.
3. The Gamble House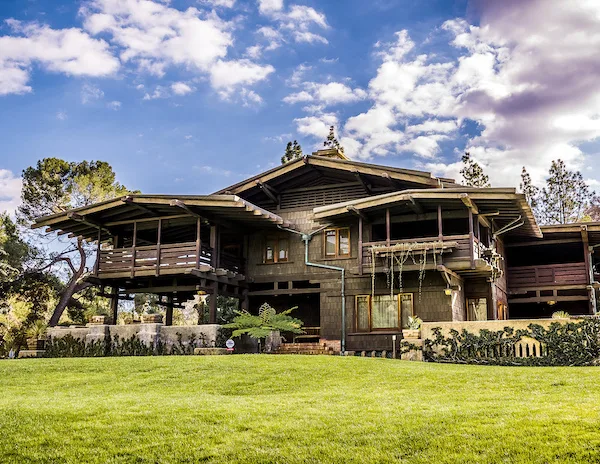 The Gamble House is a museum that celebrates the life and work of Charles and Henry Greene – two very popular architects in Pasadena during the Arts and Crafts Movement. The museum showcases many original works and furnishings from the period.
A tour of this iconic American Craftsman home constructed in 1908 is worth it.
The Gamble House | 4 Westmoreland Pl, Pasadena | Google Map It
4. Pasadena Museum of History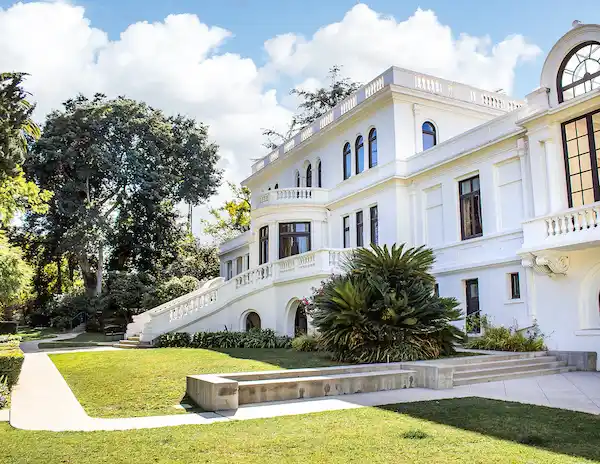 If you're looking for a museum with Pasadena's local history, the Pasadena Museum of History is worth a visit. The museum highlights over 100 years of the city's history, including its original Native American inhabitants and what life was like as a western settlement.
The tour of Fenye Mansion is available online only.
You can visit their exhibition galleries from Friday to Sunday, 12 pm to 3 pm.
Pasadena Museum of History | 4 Westmoreland Pl, Pasadena | Google Map It
5. Kidspace Children's Museum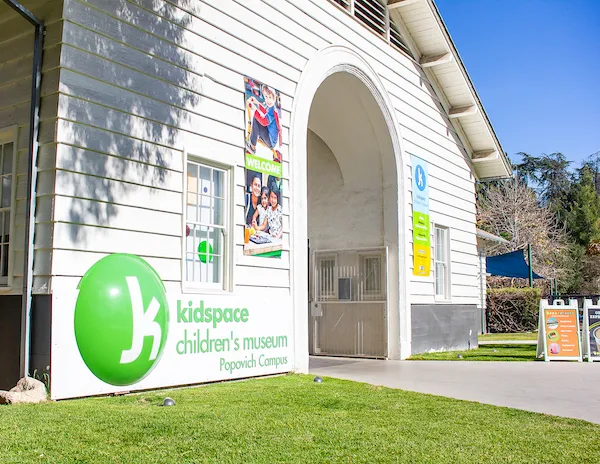 Kidspace Children's is a kid and family favorite. It is one of the best kid's museums in Pasadena. It has over 15,000 square feet of fun exhibits to explore, which makes it great if you're traveling with children who like hands-on activities.
This was one of our nieces' favorite museums when they lived in the area, including Brookside Park, across the way, where you can start or finish off your day with a picnic.
Kidspace Children's Museum | 480 N Arroyo Blvd, Pasadena | Google Map It
Visiting the City of Roses and wondering what to do in Pasadena? Check out the top things to do and see. Go shopping in Old Town Pasadena, explore our Botanical gardens, visit a museum, and more.
6. Southern California Children's Museum
Toddlers and parents will love the Southern California Children's Museum in Pasadena.
The smaller children's museum features a fun interactive play space and several other exhibits for children to enjoy. Think of it as an educational indoor playground with sensory activities, art, music, and more.
Check out the events on their website for storytime and other fun gatherings.
Southern California's Children's Museum | 459 E Colorado Blvd, Pasadena | Google Map It
7. USC Pacific Asia Museum
The USC Pacific Asia Museum is one of the most respected museums in Pasadena for its focus on Asian art and cultures. It has a vast collection from across East Asia, South Asia, Southeast Asia, and West Asia. There are permanent displays and many rotating exhibits to showcase different artifacts and items from all over Asia.
Visit the lovely koi pond in the middle of the courtyard.
Open Wednesday to Sunday from 11 am to 5 pm.
Closed Monday and Tuesday.
USC Pacific Asia | 46 N Los Robles Ave, Pasadena | Google Map It
8. Armory Center for the Arts
The Armory Center for the Arts is a museum celebrating traditional and contemporary art. It has rotating exhibits featuring different artists and collections of works from Pasadena locals.
Admission is Free.
Appointments only.
Armory Center for the Arts | 145 N Raymond Ave, Pasadena | Google Map It
Pasadena has some great museums. Take time to visit one, two, or all the museums in Pasadena. It's a great way to spend an afternoon with the family, meet up with a friend, or a great way to spend a rainy day in Pasadena.
What is your favorite museum in Pasadena? Have you been to all of them?
Share the tips & love on Pinterest: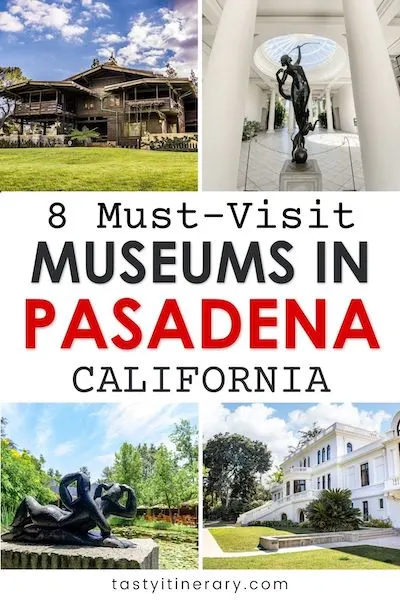 Meet Kathy Ava, a food, travel, and cruise writer based in Los Angeles/Pasadena, and the owner and main writer of Tasty Itinerary. With over 20 years of experience planning trips and logistics at her full-time job and for herself, she's become a pro at crafting unforgettable tasty itineraries. She's always on the hunt for delicious, fun travel destinations and cruise itineraries. She firmly believes that life is short and we must make the most of it, so always say yes to dessert.