If there is one bucket list everyone must cross off their list, it's to experience the holidays at Disneyland… or Disney World. Anywhere that, there is a Disney park.
I'm going to admit something, and I'm begging Disney fanatics not to hate me… I used to not appreciate what the Disney parks have to offer. I just totally misunderstood the hype.
The crowds, the expensive tickets, the long lines in the dying heat of the summer… you get it. I focused on the negative. Then I got to experience the holidays at Disneyland and realized it truly is one of the most magical places on earth.
Disneyland embraces each holiday all year long and gives its guests a magical experience. If you have kids (I don't, but I have nieces), you also get to see the magic through their eyes. It's pretty wonderful.
For 5 years, hubby and I had Disneyland annual passes that we gave up a few years ago. This past summer, we spontaneously decided to sign up for annual passes again. You know, Star Wars Land. Stepping foot inside the park after such a long break, I couldn't believe how much I missed it.
The sight of Sleeping Beauty's castle always brings a smile to my face as it reminds me of my childhood and my love for all the Disney princess movies. Who am I kidding?! I am still obsessed with everything royalty. That includes Mickey and Minnie!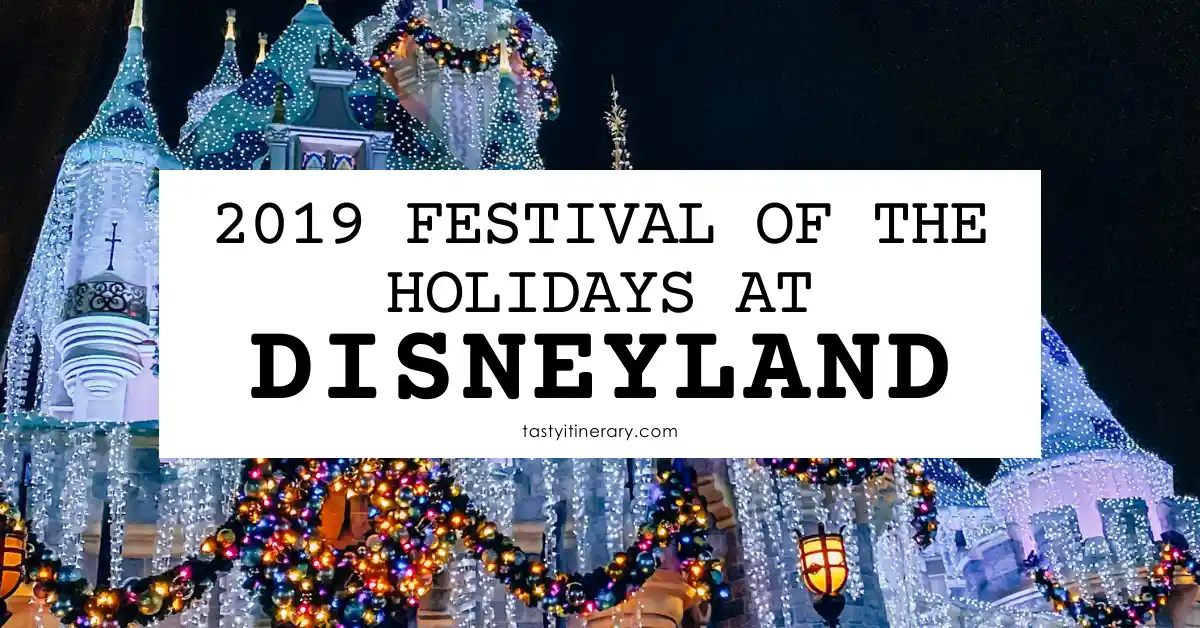 This post may contain affiliate links, which means we'll receive a commission if you purchase through our links at no extra cost to you. Please read full disclosure for more information. We appreciate your support!
Oh, and the aroma of churros gets me every time! What is it about the Mickey Mouse ice cream bars? At Disneyland, the ice cream bars just taste better.
I love to eat and be merry.
Back to the main focus of this post, the holidays at Disneyland are the best time of year. This year, we made it a priority to go soon after Thanksgiving day. We were fortunate to visit the Festivals of Holidays over at California Adventure.
Grab your light-up mouse ears and let's go!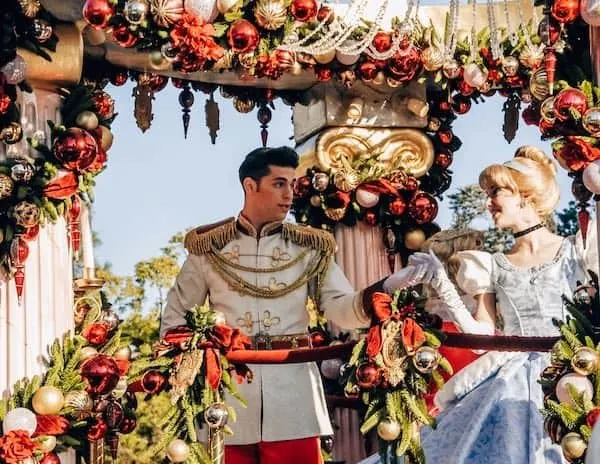 Christmas Holidays at Disneyland is the Best!
A week after Halloween was over, Disneyland underwent an overnight transformation into a wonderland of Christmas lights and magic. If you're someone like me that takes a bit to get into the Christmas spirit, Disneyland will do the trick.
You won't ever hear me ramble on about how much I love Christmas time because I'd be lying. I have a love and hate relationship with this time of year. It is a beautiful time of year, but once the pressure of shopping for the perfect gift starts, I start to get annoyed. Anxiety can definitely get the best of me this time of year.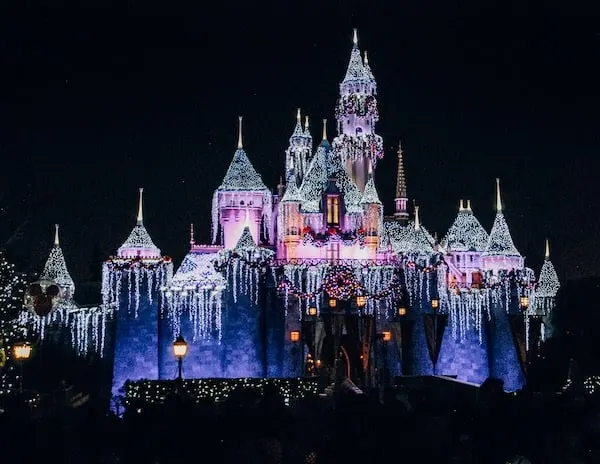 However, spending time during the holidays at Disneyland can transform even the biggest grinch. I promise. The Christmas decorations alone are worth the trip.
Visit the Christmas tree on Main Street at Disneyland or on Buena Vista Street at California adventure.
Admire Sleeping Beauty's Castle all decked out of the holidays.
The one time you should ride It's a Small World, it's during the holidays. The beautiful display of lights in and outside of the ride is festive.
Don't miss the Haunted Mansion ride as the Nightmare Before Christmas takes over for the holidays at Disneyland.
Sit and watch the Christmas Fantasy Parade at Disneyland, you'll get to see all the characters and Santa celebrate the season.
Let's not forget the fireworks!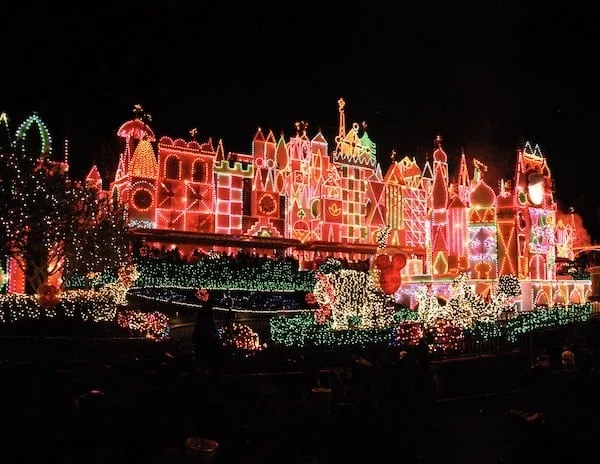 Disneyland Festival of Holidays 2019
The Festival of the Holidays this year is at Disney California Adventure. You will enjoy a food festival, live music throughout different parts of the park, and you can meet with Santa at the Redwood Creek Challenge Trail.
This event takes place from November 08, 2019 – January 06, 2020.
While I do love the Christmas vibe in California Adventure, let's be real, food was the goal.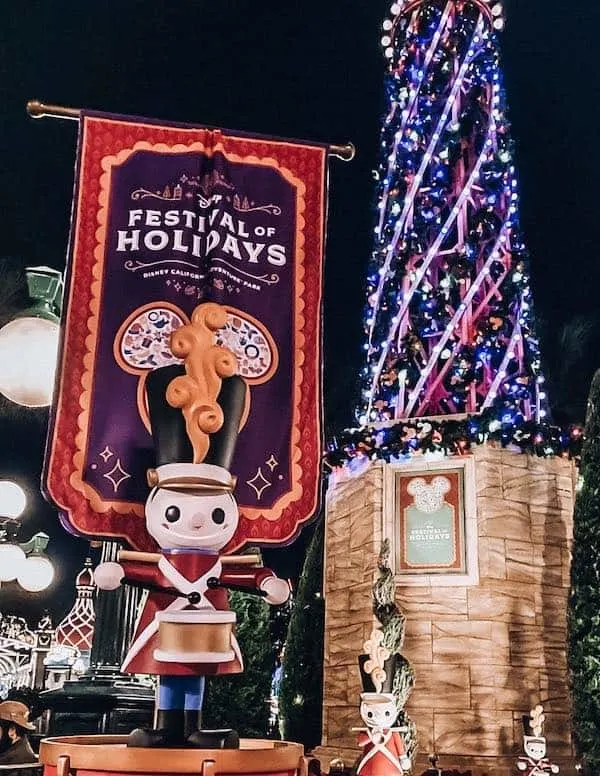 Sip and Savor Passes
Planning to try everything? You may want to invest in Sip and Saver Passes. I thought I was going to skip it, but after my first tasty purchase, hubby and I decide to buy one pass to share. You can buy 8 festival food items with the pass at the designated locations. Any of the food items and non-alcoholic specialty drinks are included in the pass.
Cost: $56 (w/o an annual pass) or $51 (w/ an annual pass)
The pass includes a lanyard, a Festival of the Holidays pin, a passport to get stamped for fun, 8 festival food items, and a cool list of all the foodie options not to miss. Alcoholic drinks are NOT included.
You will need either park-hopper tickets or an annual pass to enter the Disney parks. Plan accordingly, if you plan to go to Disneyland and California Adventure. Tickets to visit California Adventure only are available.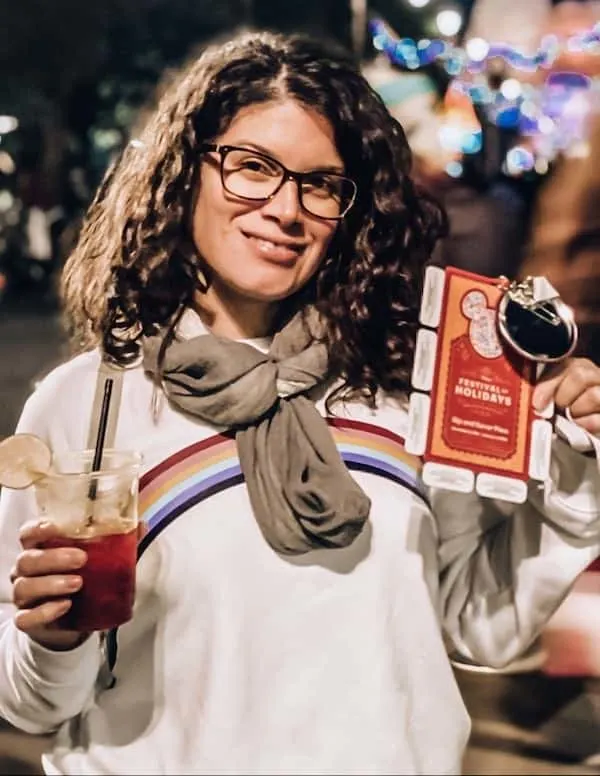 Tasty Itinerary: Eat and Be Merry with Disneyland Holiday Food
After you have your Sip and Savor pass, you can either review the list of all the holiday food options and devise a plan. Or, you can just get online at the first food stand you see as I did. I planned to try as many of them as I could.
Bring it on!
Every stand has one or two dishes, sometimes dessert drinks and baked goods. If something looked interesting, but I didn't have the chance to try it, I'll also point it out.
Holiday Duets: BRAISED PORK BELLY ADOBO WITH GARLIC FRIED RICE
Let's start with my first and absolute favorite from the Holiday Duets marketplace.
The pork belly was tender and flavorful, and its fried rice is the perfect sidekick. I appreciated the crunch pork rinds that topped the dish. Hubby is on keto, and he broke his diet for this. After that, it was downhill for him.
Pork belly photo is blurry, but I couldn't keep it from you. I plan to return and try this one more time, just to make sure it's still good. ?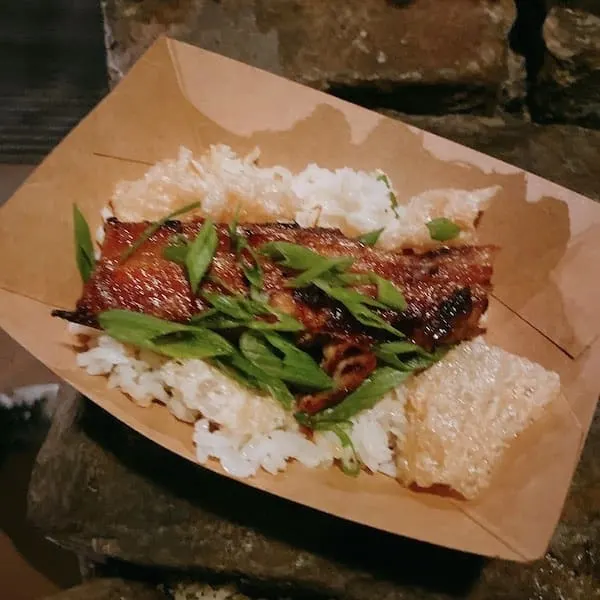 If you would prefer something else, you can get the shrimp and grits too.
Holiday Duets: CRANBERRY SANGRIA
Be merry, pair the pork belly with Cranberry Sangria sold at the Holiday Duets marketplace. It's alcoholic (21+ & older), so it is not included with your Sip and Savor Pass, but it's totally worth the extra cost. It was sweet and refreshing, the kind of drink you'll slurp because it tastes so good and without realizing it, it's gone. And then you're sad but hyped up by the sugar. Did I give myself away?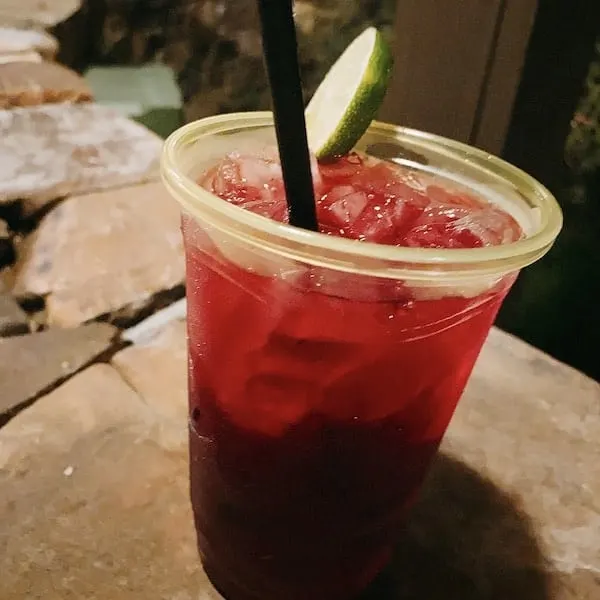 The churro coffee cold brew is another option.
Christmas in Los Angeles
How to celebrate Christmas in Los Angeles? Here are the best things to do in LA and nearby so you can get into the full holiday spirit.
Favorite Things: HOLIDAY STUFFING MAC & CHEESE
I'm a sucker for mac & cheese, and yet, picky about the kind I'll eat. Let me just say, this isn't your Kraft macaroni and cheese. Disneyland won me over once again with their mac & cheese. If you're a mac & cheese lover, stop by the Favorite Things marketplace.
The macaroni pasta was cooked to perfection with a nice bite to it. It wasn't mushy or soggy. The cheese was gooey and yummy. The crunchy breadcrumbs on top is a great addition. Thankfully, nothing close to disgusting Mac n Cheese from Flo's V8 Cafe at Disney California Adventure.
At this booth, you will also find glazed ham shanks. I personally do not like ham, so I skipped. Taste and report back.
Looking for a festive dessert? Gingerbread Mickey Cookies are available.
Favorite Things: S'MORES 'HOT' CHILLED CHOCOLATE
The whipped cream that comes with this S'mores 'hot' Chilled Chocolate is what sold hubby on this impulse buy. It's delicious and totally for chocolate lovers. I could taste the vanilla in the chocolate, I thought it had alcohol in it. This is a non-alcoholic drink for you.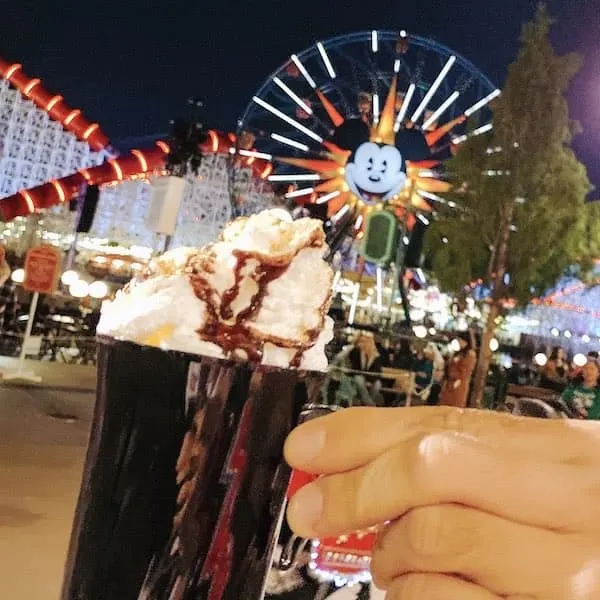 S'more chilled chocolate isn't your thing (what's wrong with you?), try the Warm Bourbon Cider.
Winter Sleigh: FRIED TURKEY SLIDER
Hubby loved this fried turkey slider. It was on an herb roll with coleslaw and cranberry sauce. I had a bite and it was very good. The problem is I think I've had enough turkey this past week for a while. I let him finish it.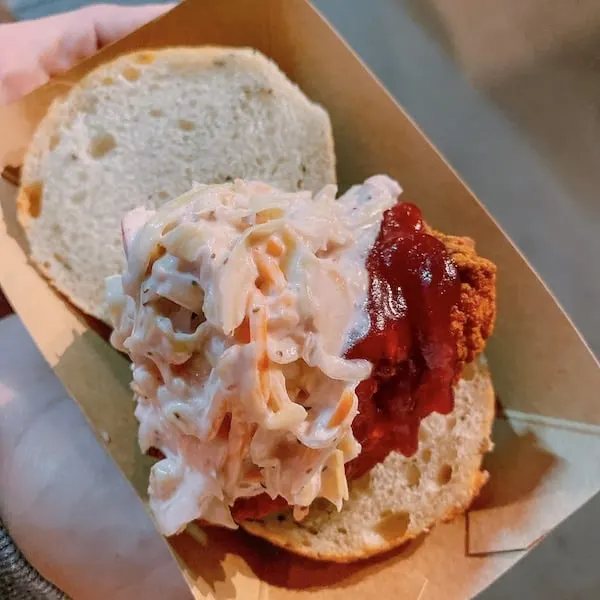 There is a beef pot roast on a potato roll at his booth. Along with a bourbon cranberry cocktail (I see this beauty in my future) and a warm peppermint chocolate float that looked divine. The whipped cream on the chocolate float was being piped from a bag. Hubby asked for a taste of it and they obliged. His eyes rolled towards the back of his head.
Why didn't we get the float? We aren't into peppermint chocolate. I will say, it is a nice size, shareable and you can use your Sip and Savor pass to get it.
Brews & Bites: CHORIZO QUESO FONDIDO
We went back to Brews & Bites twice because they kept running out of Chorizo. What's the queso without the chorizo? Just queso.
When we finally got the chorizo queso fondido, I can't say I was overly impressed. It's good, we ate the whole thing, but not sure if it was worth the walk back and forth. Hubby and I agree that the cheese tasted way better cold.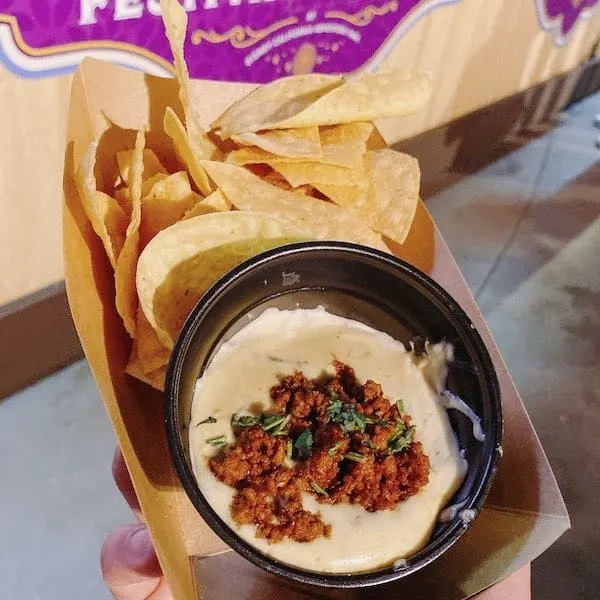 Love beer? There are two different flights available in this marketplace. One flight consisted of ales and IPAs. The other flight of beer is on the sweeter side with offerings of Berry, Horchata, Maple, and Blood Orange beers. Your pick!
Willie's Churros: PECAN PIE CHURRO
There was no way I was going to pass up a churro! This Pecan Pie churro was topped with pecans, chocolate and caramel sauce.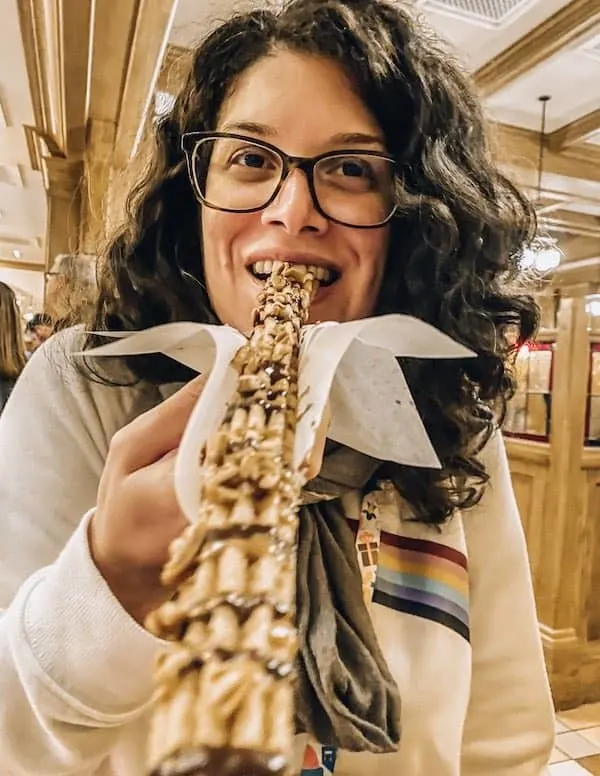 What to Skip?
I didn't get to try everything; however, there is one we did have a bite each of and ended up tossing it. What a waste of a Sip & Savor pass coupon.
SKIP the loaded latke at Smoke Jumpers Grill. The latke was greasy, and the roast beef, while tasty, it was smothered in an overpowering horseradish sauce. Don't think they realize a little goes a long way.
Day Trips from Los Angeles, CA
Looking for other day trips and things to do from Los Angeles or Southern California. Check out our list of some of the best destinations for a quick, fun day away.
Where to Stay at the Disneyland Resort?
Coming from out of town to visit during the holidays at Disneyland? I don't think you can go wrong with any of the Disneyland hotels, but there is one hotel I always recommend to out-of-towners.
Disney's Grand Californian Hotel & Spa is connected to California Adventure. It's a convenient location. You can easily step outside your hotel and be inside the theme park or Downtown Disney.
---
Visit the Disneyland site to see a complete foodie list from the Disney Festival of Holidays for more info. There is also a couple of veggie options for those that don't eat meat.
My hope is to return some time before the New Year and sample a few other things. I need to try the Pork Tamale at Cocina Cucamonga.
Did I convince you to visit the Festival of Holidays at Disneyland?
---
Share the tips & love on Pinterest: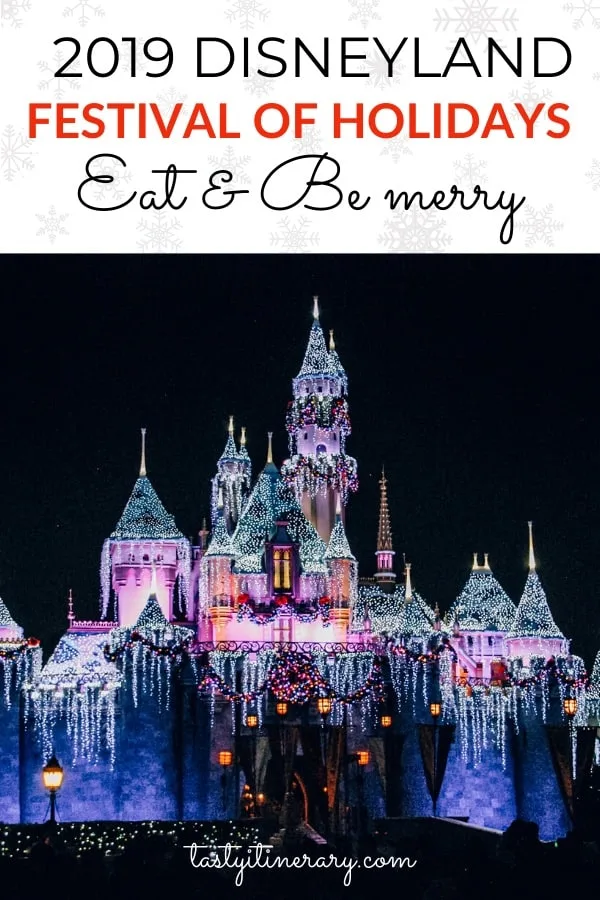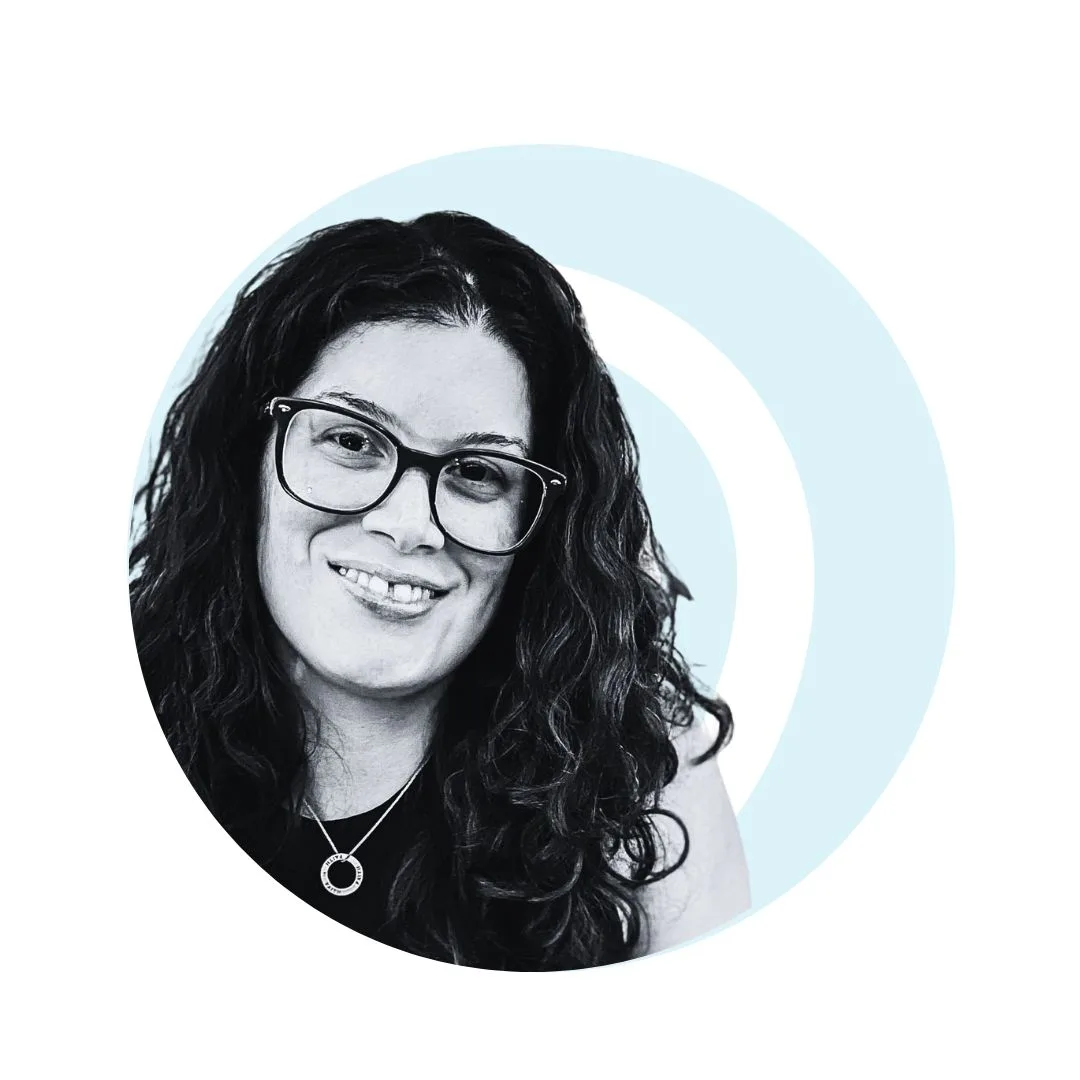 Meet Kathy Ava – a food, travel, and cruise writer based in Los Angeles/Pasadena. With over 20 years of experience planning trips and logistics at her full-time job and for herself, she's become a pro at crafting unforgettable travel itineraries. She's always looking for delicious, fun cruise itineraries and travel destinations and is slightly obsessed with Italy. Her passion and curiosity for travel started in childhood on her yearly and sometimes bi-yearly trips to PR. She firmly believes that life is short and we must make the most of it – so let's explore the world and make some incredible memories.