Some of you already know that I have 2 dogs that I adore. No human children, but Lulu and Maverick are basically my kids. These furbabies are spoiled, loved, and SPOILED. I want to share how they came into our lives and some of our dog's favorite things, including treats and great dog resources.
Our dogs are rescues. Each one of them has their own story and they came into our lives during different circumstances.
Growing up, I was not a dog person. As a matter of fact, I really didn't want anything to do with animals. Not that I ever had bad feelings towards animals. I had empathy for the animals around me, would never refuse food or water or anything like that. If I would get deeper into my childhood, you'd find out that I was surrounded by animals a lot during certain years of my life. The truth is, I simply didn't trust animals.
Hubby grew up with dogs, cats and other farm animals.
Fast forward many, and I mean many, years later, Hubby and I moved from New York to Los Angeles. It seemed like we moved to the dog-loving capital of the world. Everyone around us had a dog or two. Our apartment building allowed dogs. There was a dog park near our complex. Restaurants and stores set drinking water out for dogs that are walking by. Sometimes they even had treats for them.
It was a complete 180 from pur living situation in New York. Finding an apartment that allowed any animals was almost unheard of back then. I wish we had the opportunity then but we didn't.
Now, living in Los Angeles, having dogs has changed our life for the better. They have saved us.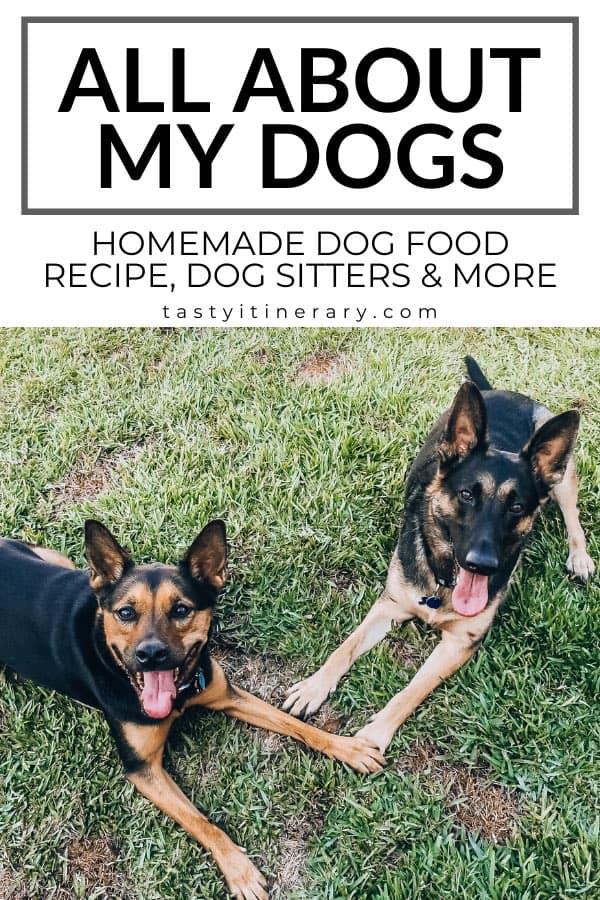 Disclosure: This post may contain affiliate links. If you decide to make a purchase from one of those links, we may get a commission at no extra cost to you. We appreciate your support.
Meet Our Dogs
Love at First Sight – Our 1st Dog
After numerous conversations about getting a dog, hubby and I set out on a summer day to visit dog rescues and shelters. Before we left our apartment, hubby advises me, "don't fall in love with the 1st dog we see."
The first shelter we visit in West LA, the staff tells us they just brought in a few puppies this morning. We go into the room where they were keeping them and sitting in the crate is the most adorable puppy. Her siblings were quickly adopted out.
All puppies are cute, but this one was special. Her head was black like she had been dipped in paint and the rest of her body white. To add to the cuteness, she was wearing a red ribbon. This 8-week-year-old puppy stared at us with sad eyes.
My heart broke. I reminded myself what hubby told me before we left. We can always come back.
"I want her."
Wait, what?
"What?" I turned to hubby, shocked. "I thought you said not to fall in love with the 1st one."
"No, no, this dog is mine." He insisted, absolutely enamored. It was love at first sight. Their connection was one-of-a-kind.
We took her home that day and named her, Hershey. Although as she grew and black spots emerged all over her body, she looked more like an Oreo.
She was a loyal dog. Aggressive with everyone outside of our circle, but loyal and tender with those she loved. Always cuddling, always under the blanket when we weren't home and played ball like a champ.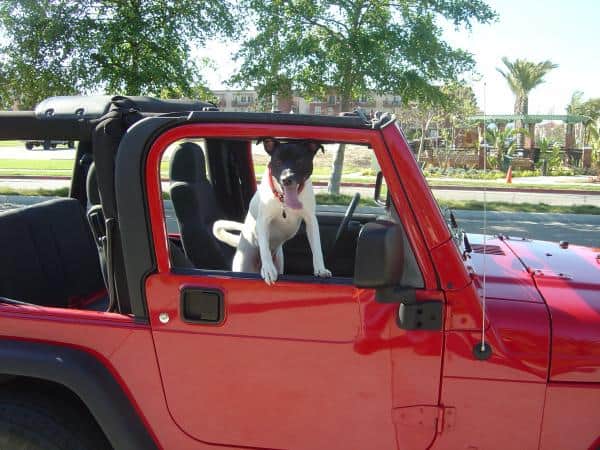 Hershey was with us for 5 years before she developed an incurable disease. That was many years ago and it still hurts our hearts. I'm emotional writing about this, but she deserves a spot on this post.
The Honeymooners & Lulu
We spent a few months grieving over Hershey. We barely wanted to be home. I think set on on a few trips that summer and we were planning our 1o yr anniversary trip to Florence, Italy to fill the hole in our heart.
The house was too quiet and it was driving hubby crazy. I didn't want another dog. I still love you Lulu, but it's the truth. I was dead-set about getting another dog. The pain from losing Hershey was excruciating, and it still hurts. Hubby believes that after you lose one pet, you replace them with another – that's how he grew up. It helps fill the void and keeps you distracted, so I guess in a way it's true.
One day, we agreed again to just look at rescues. We went to a few and the last one taking place at a local pet store, we came across a set of German Shepard mix 3-month-old puppies. Lulu was the only girl of the bunch. I wanted a girl.
Fast forward an application, a visit to our home from the rescue and hubby having to continue convincing me a dog is a good idea, Lulu came home.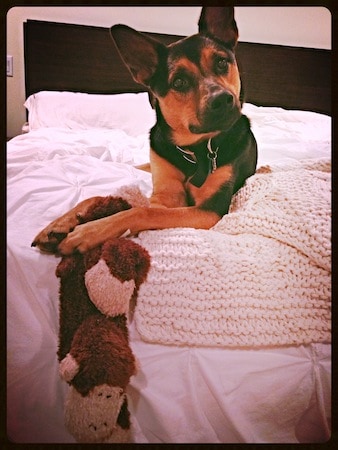 Before she came home, we decided on a name. I wanted to name her after food (not surprising, huh), but hubby kept thinking of a specific Honeymooners episode. I'm sorry if you have no idea what show this is, but it's from the 1950s and there used to be reruns of it at midnight every night when we lived in NY.
Anyways, in this episode, Norton is sleepwalking and calling out for his long-lost childhood dog, "Lulu! Lulu!" Norton was still grieving over the dog, just like we were still grieving over Hershey. So his buddy and neighbor give him a dog in hopes to cure the sleepwalking.
This is how our Lulu got her name.
Lulu is an independent and fiercely protective dog. She knows how to beg for treats and loves to watch TV. She loves us, but I swear she loves hubby more than me. Every night she cuddles in bed for a little while, until she decides she's had enough. ?
The Dog Nobody Wanted
A couple of summers after adopting Lulu, we were in the middle of looking to buy a house when hubby showed me the photo of a 2-year-old German Shepard posted on Twitter named Maverick. Maverick was being temporarily fostered by a neighbor of a Twitter acquaintance. They were fostering the dog for a family member that no longer could keep the dog because of his new living situation.
While my heart broke for Maverick, I refused to even babysit the idea of adopting a 2nd dog in the middle of house shopping and with upcoming travel plans to Greece.
We had previously discussed maybe getting Lulu a sibling as she loves to be around other dogs. Unlike Hershey, she was Miss Social Butterfly at the dog park. However, it was just a bad time.
Fast forward a couple of months later, we found a new home and are in escrow. The idea of living in a house scared me –I am a city girl that loves apartments – and while Lulu is fiercely protective of our home, I thought another big dog would be nice. I'd feel safer. We agreed we would start looking for 2nd rescue after we returned from Greece.
The next day hubby gets a message from his Twitter friend. His neighbor was going to drop Maverick off at the no-kill shelter later in the week if they couldn't place him. When I learned this, I agreed we should all meet Maverick. Forget it, the rest is history.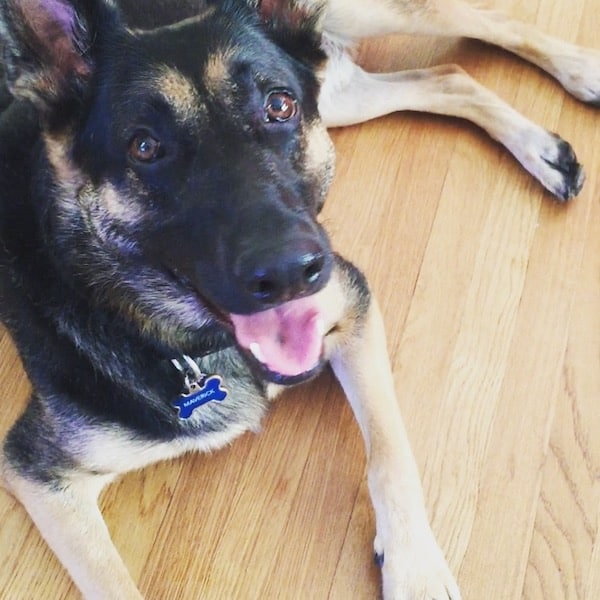 Maverick was misunderstood by his previous foster parents. They were scared of his bark and even were worried about him playing with their own dog. They had him on a choker chain and using it incorrectly on him because he's a stubborn dog. Till this day, he's stubborn, but he's big a teddy bear that only wants to be loved. And nothing like his previous owners made him out to be.
They dropped him off at our house a day after we returned back from Greece and a month before we moved into our new house. Besides forwarding medical records, we never heard from them again. He's 9 yrs old now.
I can't even imagine not having Maverick in my life. He is my shadow, always by my side or at my feet. Hubby can't even hug me without him getting jealous because he wants hugs too. As lovable as he is, he is also a protector and has a loud bark that scares everyone. I love him for it. He also loves to sunbathe and hates the cold.
Maverick was meant to be ours.
Special talent: He howls along with police sirens.
Dog Resources: The Things We Love
Treats Our Dogs Love and I Approve Of
Trader Joe's Peanut Butter & Banana Dog Treats
Trader Joe's Turkey & Pumpkin Strips
Trader Joe's Pumpkin Treats
We only give our dogs limited ingredient treats. At least, we try to.
Maverick suffers from colitis and sometimes the wrong ingredient in a treat can send him outside to potty multiple times a day and night. I read everything listed for each dog treat we introduce into his diet at home. We also have to watch his weight.
Lulu, while her weight is perfect, we have to watch her cholesterol. Since they share the same dog treats, she follows Maverick's diet, sort of.
I'm a big treat giver. It's a problem. We have cut down a lot and I've introduced Maverick to raw veggies which he loves as treats. Lulu is another story. I can only sneak the vegetables into her food.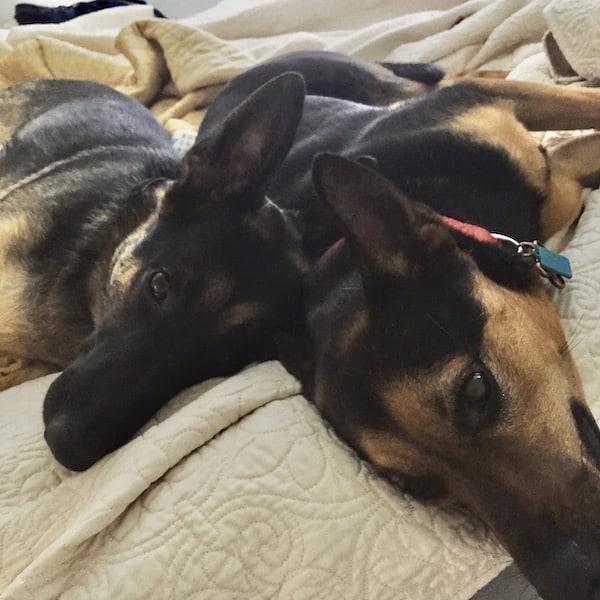 Homemade Dog Food Recipe – Instant Pot
Disclosure: I am NOT a dog nutritionist. I have consulted with my vet. This is simply what I make for my dogs and what works for us. They still eat their prescription kibble that helps with their weight and joints and also provides any nutrients they are not getting from the homemade dog food.
For Lulu, I prepare this homemade dog food to mix with her kibble. Sometimes, when I run out of his chicken, Maverick has it too.
Maverick is on a diet, so he has steamed chicken breast and fresh string beans to go with his kibble.
Btw, all this food prep is made easy by my Instant Pot. I take one day every 2 weeks to prepare their food. I've done a whole month in advance too.
It turns out the canned food I was giving them before was not good for either of them as it contained high-fat content. Other canned foods would send Maverick potty or attribute to his weight gain.
I have discussed this with their doctor and this has worked out well for their dietary needs. Maverick no longer has constant stomach problems and Lulu's cholesterol is back to normal.
Easy & Healthy Homemade Dog Food Recipe
5 lbs of Lean Ground Chicken
1 cup of uncooked Brown Rice
2 Cups of Water
1/2 cup of shredded carrots
1/2 cup of frozen peas
In the Instant Pot, sauté the ground chicken until 90% cooked through. Once the ground chicken is mostly cooked, add the brown rice, water, shredded carrots, and frozen peas. Mix together.

Turn off the saute, cover the Instant Pot, secure the seal, and pressure cook it for 17 minutes. Allow the pressure to naturally release. Once the pressure has naturally released and the pressure indicator indicates it's safe to open the IP, I will uncover it and mix it up again. I will let the food sit for a couple of hours, mixing it every now and then, allowing the rice to soak up the juices before putting it away. You can also put it away in individual containers immediately and let it settle that way too.
When it cools down, I stick half in the fridge and the other half in the freezer for the next week.
This recipe makes for almost 2 weeks of food for Lulu. She only gets 1 cup with her kibble, once a day. It all depends on your dog and how much of this homemade food you're planning on feeding them.
Optional ingredients: This is a basic but versatile recipe. You can swap the chicken for ground turkey, just make sure it is lean. You can add some sweet potatoes or butternut squash – my dogs love butternut squash. Remember, too much of anything can make them sick. If I went crazy with peas, it could give the dog diarrhea. So, always ask your vet first before introducing a new food into the dog's diet.
Slow Cooker: YES, you can cook in a slow cooker. I haven't tested it. You should cook the ground chicken first on the stove before transferring it into a slow cooker. Then add the rest of the ingredients. Mix and set to cook on low for 5-6 hours.
When Lulu finishes eating her food every night she will start doing a little happy wiggle on her back either in her bed or in our bed. It's the cutest thing.
How do we travel when we have dogs?
We use a dog sitter that stays in our house. I am a huge fan of Rover. I consider them #1 in my list of dog resources. The dogs will probably say the treats, I can't blame them.
Just because you have dogs (or cats), it doesn't mean you can't ever go on vacation. There may be special cases that make it difficult, but it's not impossible.
Some people choose to travel with their dogs and that's fine. We don't. Our dogs are not road-trip or travel-friendly. Also, when I have time off, I'm looking for time away from my environment, including the dogs. As much as I love them, they are a lot of work. So I budget for dog sitters and add it to our travel costs.
Our best dog sitters have come from Rover. I don't just book the first dog sitter I come across. I make an appointment to meet them, I interview them and see them interact with my dogs.
Choose to have the dog sit overnight at your home, at their home or to make daily check-ups. You can also find cat sitters and dog walkers on Rover.
Quick Tips to Book A Dog Sitter on Rover
Don't skim through profiles. Read every word. One time, in the fine print I noticed it said that this person will only dogsit for crated dogs. Why? That didn't sit well with me. I moved on.
Read reviews too. Most people booking through Rover love their dogs to bits and are there because they are willing to pay for excellent care. They will complain if there is a problem.
Always set up a meet & greet for everyone. Don't just book and wait for the 1st day of dogsitting to meet them.
Write a list of questions and concerns to go over with each potential dog sitter you meet. Go over any specifics and expectations during their stay with the dog (s).
Watch how the potential dog sitter interacts with your dog(s). We met a couple once that did it together, the lady was great with our dogs, but the gentlemen barely petted them. And yet, he was the one that was going to deal with them overnight. Nope. Next.
Give them a trial run. Maybe book a weekend away and have them dog sit. See how they do. Maybe that will help you feel comfortable. You may need to do this more than once.
Choose a dog sitter that is an ANIMAL LOVER and not just dogsitting simply for the money.
Trust your gut.
New to Rover?
Sign-up now for $20 off your first booking when you create a new Rover account.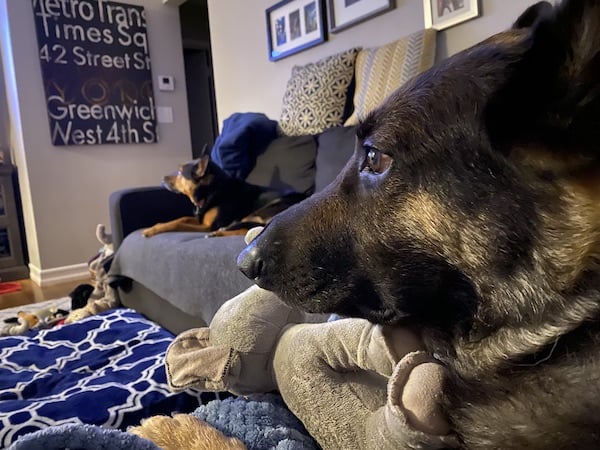 Best Dog Toys
One of my biggest dog resources for dog toys is Marshalls & TJ Maxx. No joke, they have the best dog toys for great prices. A third or a quarter of the price than a pet store.
I'm not going to sit here and give you a list of toys from Amazon when I purchase 99% of their toys from Marshalls & TJ Maxx. They literally get toys that may or may not last them a week, a month and sometimes more. It all depends on the quality of the toy.
They love big toys the size of their head or that they can overstuff into their mouths. If it squeaks, it's a winner. Maverick becomes attached to every new toy I bring him. Then he sort of forgets of the old ones when I do. They have a basket overloaded with toys.
We Love Our Dogs
I came across this mug, "I Work Hard so My Dog Can Have a Better Life," recently, after ironically paying a hefty vet bill (Mav has all sorts of health stuff going on the past 2 years) and laughed because it speaks volumes for us.
The past couple of years we have been at the vets more than hubby and I have been to the doctor. We pay the vet bills with a sigh, and then see our dogs playing happily at home, safe, living a good life. In return, they give us unconditional love, lots of smiles and laughter… they save us many times over.
We love our dogs. ♥️
Lulu and Maverick don't really like it when I point the camera at them, but I do update my stories from time-to-time with videos and photos of them on my Instagram. You can also check out their story highlights.
---
Do you have a dog, cat or other fur-baby? Tell me all about him or her.
What other dog resources and advice would you like to hear about?
---
Don't forget to share the love on Pinterest: