Are you looking for mouthwatering burgers in Pasadena?
Nothing like a juicy burger with gooey cheese and all the fixings to bite into. It's so delicious and comforting and part of the American culture—especially the burgers in California.
When we moved from New York to California, we were quickly schooled here on what a great burger is. There is a reason why we have delicious burger joints at every corner.
We know what we are doing here.
Of course, in this post, we'll talk about the burgers in Pasadena and where to get the best ones.
Burgers are versatile, delicious, satisfying, and comforting. Pair it with fries, onion rings, and a beer of your choice; we have the perfect combo. It's also a go-to meal whenever we return from traveling out of state. It's the one thing we crave at least once a week.
One of the things to love about Pasadena is all the burger joint options. From old-school classic spots that have been here for decades, the pubs, and even new franchises that have popped up in the neighborhood. We visit some of these spots repeatedly, and then we go for ice cream for dessert.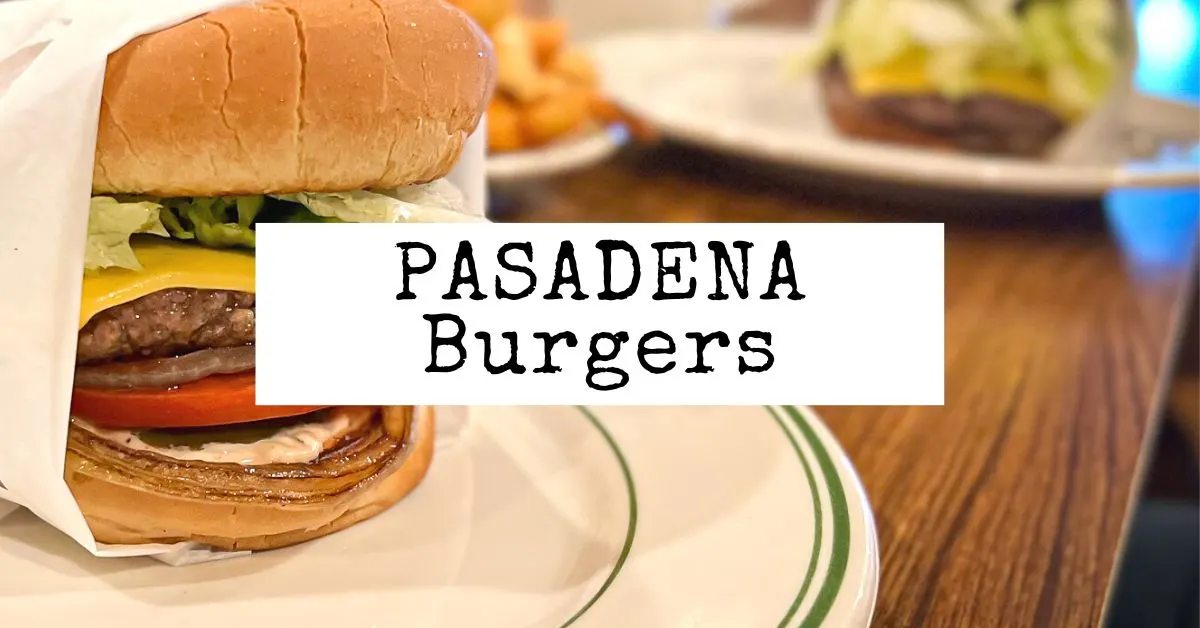 This post may contain affiliate links, which means we'll receive a commission if you purchase through our links at no extra cost to you. Please read full disclosure for more information. We appreciate your support!
And we all know In-n-out, Shake Shack, and Five Guys serve delicious burgers for fast-food joints. This is where we all go to satisfy quick burger cravings on a budget or simply because that's what we crave at the time. But there are so many other burger spots in Pasadena that are worth adding to your rotation.
What are those other burgers in Pasadena? Where have you had the best burgers? What about vegan burgers?
Fun Fact: Did you know that the cheeseburger was invented in Pasadena? 16-year-old Lionel Sternberger was the first to serve cheese on a burger to a customer, making cheeseburgers a California food. A plaque honoring this has been placed at the old Rite Spot diner location. 
We share everything from a local's point of view.
We are Pasadena locals that spend our time off exploring and eating our way through this great city. We want to share our tasty itinerary with you so you can eat a delicious burger in Pasadena.
Spots for Burgers in Pasadena
1. Pie 'n Burger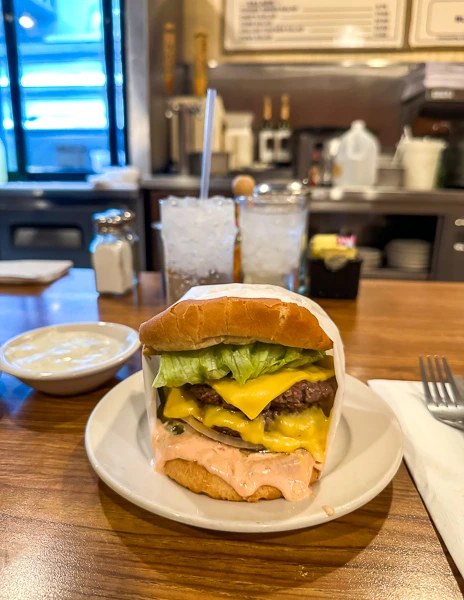 This classic lunch counter spot in Pasadena has been at the same location since it opened in 1963. Pie 'n Burger lives up to its name. They serve a classic burger that has easily become one of our faves. We are there at least once a month, minimum.
What to order? The classic cheeseburger with a grilled whole onion slice and everything on it. Since our favorite waitress at Pie 'n Burger recommended it, we've been hooked.
Pair your burger with a slice of pie (boysenberry is our favorite), a root beer float, or a malt shake.
Want something different? Their patti melt is pretty awesome. Dip it in a side of Russian dressing.
Cash only. ATM is available inside the restaurant.
Pie 'n Burger | 913 E California Blvd, Pasadena | Google Map It
2. Dog Haus Biergarten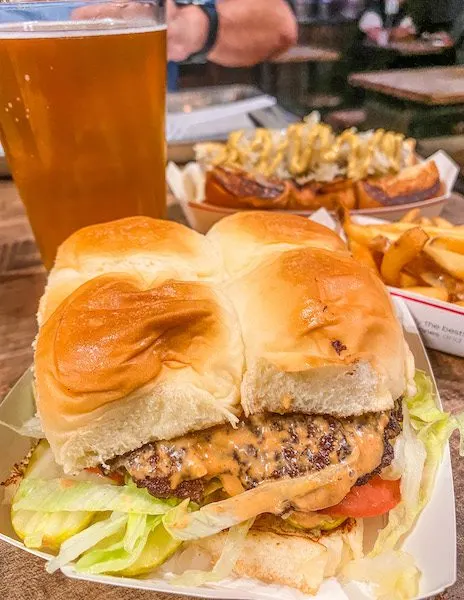 Many new Dog Haus locations have recently opened in Southern California. In this post, we're sticking to the original Dog Haus in Old Pasadena, where it all started.
Their juicy burgers come in various creative combinations, and the best part is they are served on King's Hawaiin rolls.
Yes, Hawaiian rolls!
What to order? Their haus sliders (mini burgers) are a great tease. You'll quickly move on to a Holy Aioli. Don't forget to order a beer to go with your burger.
Oh, and order the cheese fries! Their melty, gooey, and oh-so-delicious cheese sauce is homemade.
Impossible burgers are available.
Dog Haus | 93 E Green St, Pasadena | Google Map It
3. Magnolia House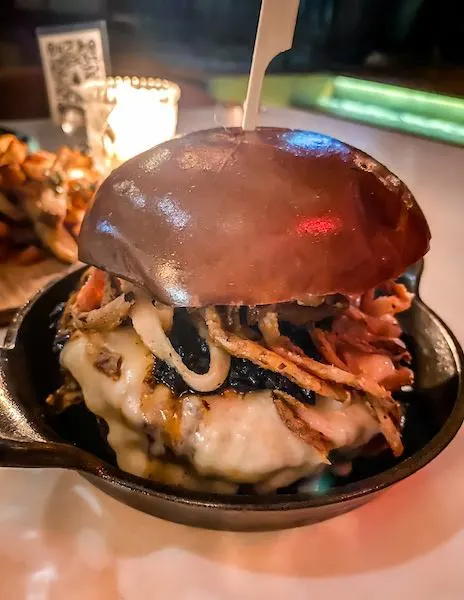 Walking by this trendy spot on Lake Ave on Lake, you wouldn't think they have one of the most mouthwatering burgers, but they do. Magnolia House has The Duke Burger with its housemade white cheddar and bacon jam… come on, they had me at bacon jam.
On Tuesdays, they have a bourbon (old fashioned) and burger special for $20. That comes with Belgian fries, too. Total steal! And worth every single bite and sip. Right?
What to order? The Duke Burger, of course. Their House Burger is just as delicious if you want to stick to a classic burger.
The House Burger is also served during their weekend brunch in Pasadena.
Magnolia House | 492 S Lake Ave, Pasadena | Google Map It
4. Jake's Trustworthy Burgers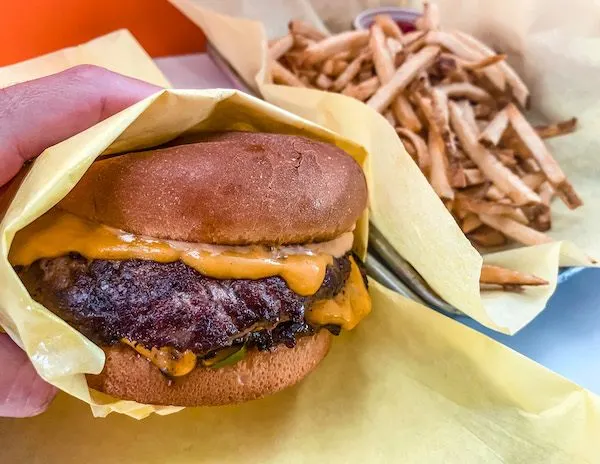 You'll find Jake's right in the center of Old Town and along Route 66. Jake's is one of the first burgers stands in Pasadena that opened in 1947. It had temporarily closed down but reopened in its original location in recent years.
Now the real question is… are Jake's burgers trustworthy? Yes! If you want a classic and delicious burger, you'll find it at Jake's.
What to order? The classic 1947 burger is the way to go. Don't forget some of those fat-sized beer-battered onion rings on the side.
Beyond patty is available.
Jake's Trustworthy Burger | 38 W Colorado Blvd, Pasadena | Google Map It
5. Foothill Restaurant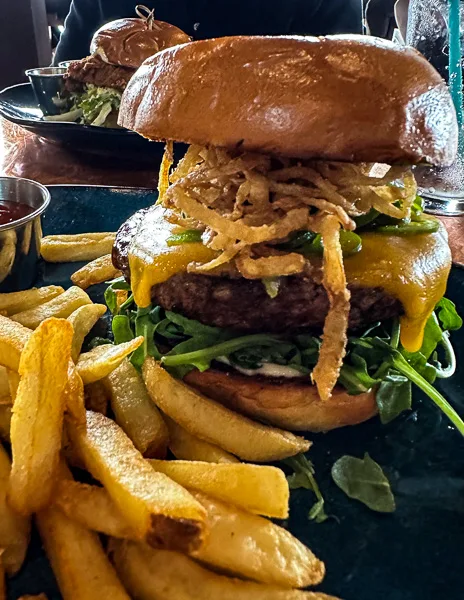 You're missing out if you have not tried the Foothill Restaurant's BBQ Jam burger. We indeed were and had no clue until recently. On the menu is this magnificent juicy 1/2-pound wagyu burger served on a brioche bun with tomato, cheddar cheese, crispy onion, house bbq sauce, serrano jam, and garlic aioli. They do add some arugula if you're wondering if there are any greens.
A delicious and flavorful combination of savory ingredients with a hint of sweetness from the bbq sauce and a slight kick from the serrano peppers.
It was a $22 burger with fries. However, we enjoyed every bite and looking forward to having it again soon.
My only regret from this meal was not taking a better photo of this masterpiece. Sometimes, the lighting isn't right, but eating the food while still hot is a priority.
At Happy Hour, Foothill has a burger and beer special cheaper than the BBQ Jam for lunch or dinner. But it's just a regular burger, no bbq jam fixings.
Foothill | 2835 E Foothill Blvd, Pasadena | Google Map It
6. Lucky Baldwin's Pub
This British pub not only serves beer and British classics, but Lucky Baldwin's burgers are also worth the visit. Even if you don't drink, the pub serves fantastic burgers in Pasadena that will more than kick that burger craving.
What to order? We are biased toward the English Burger. The combination of blue cheese, bacon, homemade bacon & brown sugar jam hit all the right spots.
Lucky Baldwin's Pub | 17 S Raymond Ave, Pasadena | Google Map It
Lucky Baldwins Trappiste Pub | 1770 E Colorado Blvd, Pasadena | Google Map It
7. La Grande Orange Cafe
LGO stands out for many foodie reasons, and their burgers aren't an exception. Their burgers are juicy, flavorful, and cooked to order. The crispy skinny fries they served with the burger are addicting AF.
What to order? Whichever burger you decide on, request it with their housemade English muffin.
A vegetarian black bean burger with cashew cheese is a menu option.
La Grande Orange Cafe | 260 S Raymond Ave, Pasadena | Google Map It
8. Russell's
If you're looking for a good diner burger in Old Town Pasadena, Russell's has you covered with 14 burgers from their menu. While they may not seem like the quintessential American Diner (I'd say they are better), they serve quality comfort food like their delicious burgers that always hit the spot.
What to order? Their Frisco Deluxe burger is pretty awesome.
Vegetarian options are available.
Russell's | 30 N Fair Oaks Ave, Pasadena | Google Map It
9. Kings Row Gastropub
Another pub with great burgers in Pasadena. Kings Row is located in the heart of old town and is a neighborhood favorite. They tick off all the boxes… great food, drinks, and good vibes. Pair their burger with a beer, and you'll be one happy burger lover.
What to order? Without a doubt, the double-patty cheeseburger.
Impossible burgers are available.
King's Row Gastropub | 20 E Colorado Blvd, Pasadena | Google Map It
Looking for delicious pizza? Check out our top spots for pizza in Pasadena.
10. The Stand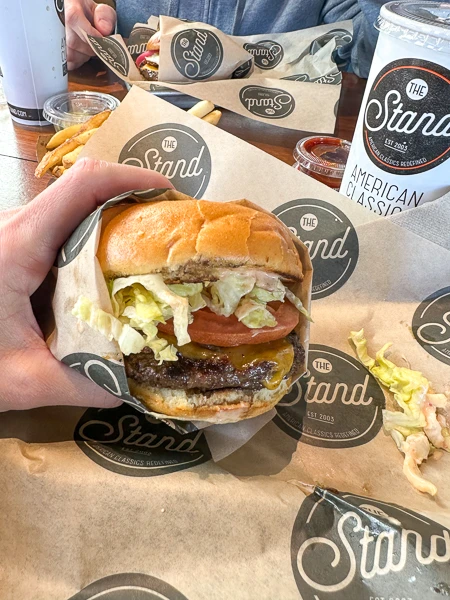 The Stand is a franchise that made a home in the Playhouse District of Pasadena some years ago. Their American Classic burgers are too good not to add to this list. I like to call it "gourmet fast-food" as their unique burger combinations are made with top-quality ingredients. You can choose from their menu or build your own.
What to order? There hasn't been a burger we haven't tasted that we didn't like. But, upon the first bite of their Big Blue burger, you'll feel like you're eating at a fancy restaurant.
Impossible burgers are available.
The Stand | 36 S El Molino Ave, Pasadena | Google Map It
Share the tips & love on Pinterest: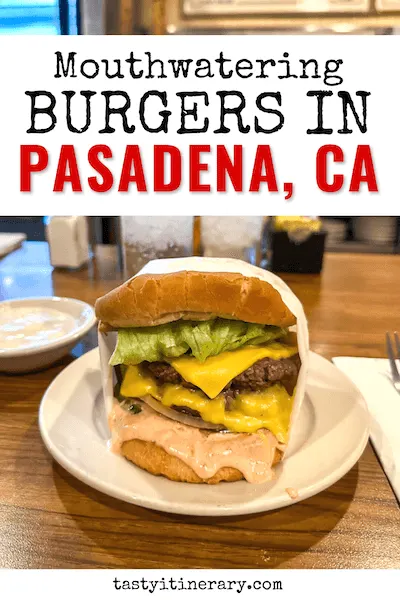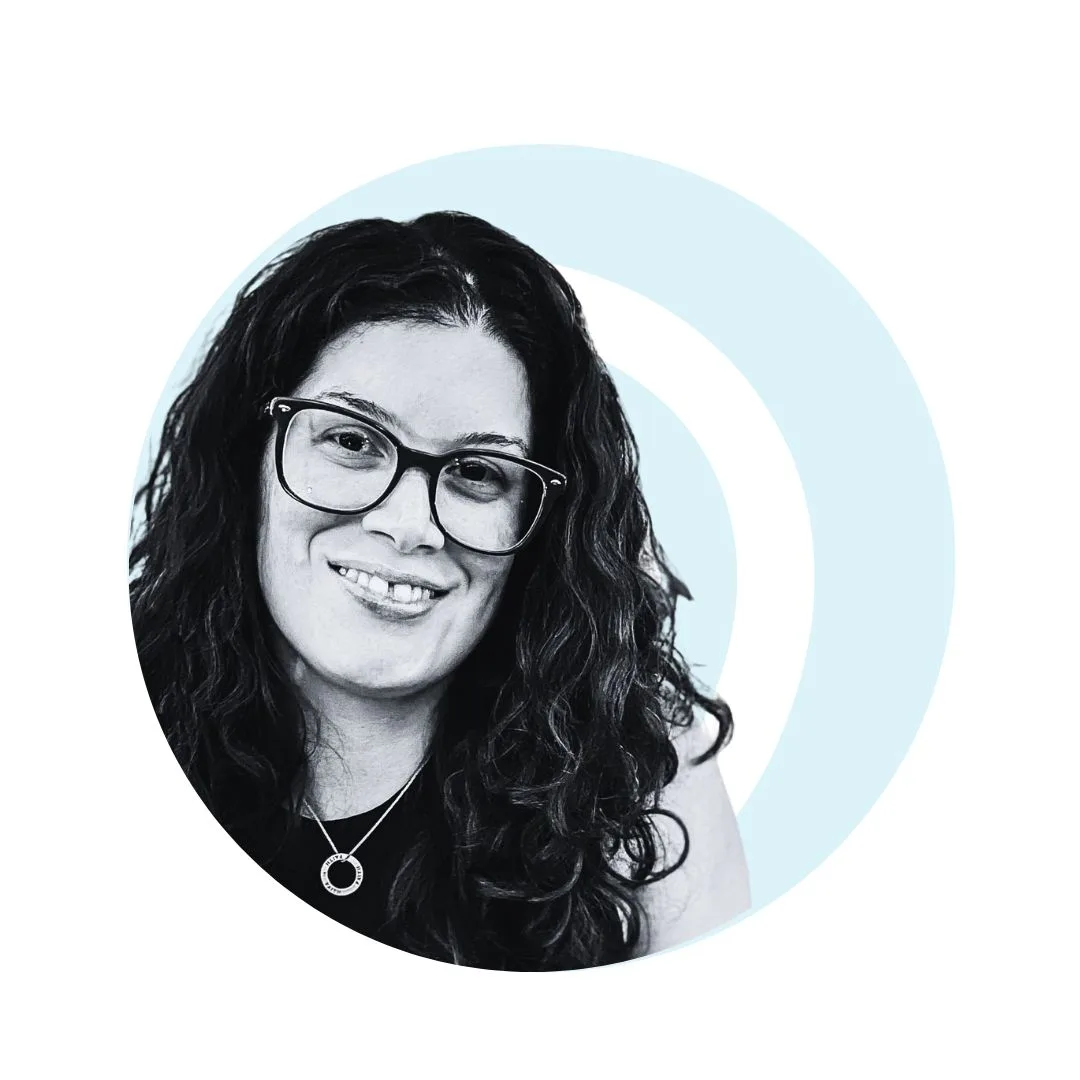 Meet Kathy – a food, travel, and cruise writer based in Los Angeles/Pasadena. With over 20 years of experience planning trips and logistics at her full-time job and for herself, she's become a pro at crafting unforgettable travel itineraries. She's always looking for delicious, fun cruise itineraries and travel destinations and is slightly obsessed with Italy. Her passion and curiosity for travel started in childhood on her yearly and sometimes bi-yearly trips to PR. She firmly believes that life is short and we must make the most of it – so let's explore the world and make some incredible memories.